US Senate to vote on gun control on Thursday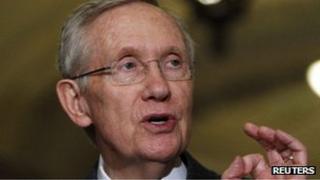 The US Senate is set to hold a crunch vote on Thursday on whether to debate a gun control law, as a conservative blockade of the bill began to splinter.
Majority Leader Harry Reid said it was unclear if they could get the 60 votes needed to overcome a procedural stalling tactic known as a filibuster.
But at least seven Republicans said they would back a debate of the bill.
President Barack Obama has been campaigning for gun controls since a massacre at a school in Connecticut.
Thursday's vote is not about passing the bill, but simply to decide whether it should even be allowed to the Senate floor for debate.
'Responsibility to kids'
The legislation would expand the existing system of background checks on gun buyers, make gun trafficking a federal crime and set aside $40m (£26m) of federal funding for enhanced school security.
"We're going to vote on this anyway," Mr Reid said. "The American people deserve a vote on this legislation."
A ban on assault weapons and limits on the size of ammunition magazines was dropped from the bill amid a lack of political support.
Mr Reid has said he will organise a vote on those measures as amendments to the main bill, although they are viewed as legislative long shots.
Speaking on the floor of the Senate, Mr Reid added: "We have a responsibility to safeguard these little kids. And unless we do something more than what's the law today, we have failed."
On Tuesday, Republican Senators Kelly Ayotte of New Hampshire, Susan Collins of Maine, Johnny Isakson of Georgia, Tom Coburn of Oklahoma, Lindsey Graham of South Carolina, Saxby Chambliss of Georgia and John McCain of Arizona indicated they would support bringing the legislation to the floor of the chamber.
Tom Coburn said: "There's not very much ambivalence on Capitol Hill about the gun issue. You're on one side or the other, so there's no reason not to go ahead and vote."
But 13 Republican senators said they would use a filibuster to block the attempt to bring the bill up for debate.
In a letter to Mr Reid on Monday, they said the bill infringed the US Constitution's second amendment right to bear arms.
Mitch McConnell, the top Republican in the Senate, joined the move for a filibuster.
Obama calling lawmakers
Texas Senator Ted Cruz, who also backs the filibuster, said the bill under consideration placed "burdens on law-abiding citizens exercising a constitutional right".
If Democrats can secure the 60 votes needed to break the filibuster, the eventual debate on the gun bill is expected to be emotionally charged.
Families of the 20 children slain in Newtown, Connecticut, in December have been meeting undecided senators to lobby them to debate the legislation.
"We bring a face to this tragedy," said Mark Barden, whose seven-year-old son, Daniel, died in the massacre.
"It's not just about our tragedy. Lots of kids are killed every day in this nation. We have to help lead the change."
Meanwhile, Democratic Senator Joe Manchin of West Virginia and Republican Senator Pat Toomey of Pennsylvania were working on a bipartisan gun measure designed to appeal to a broader range of lawmakers than the current proposal.
Their plan would expand the requirement for federal background checks for more gun purchases, say Senate aides.
On Monday, Mr Obama urged Americans to demand action from Congress in an impassioned speech in Connecticut, just an hour from the scene of the Newtown school shooting.
He was calling lawmakers on Tuesday to ask for their support in Thursday's vote, the White House said.
Opinion polls have consistently shown most Americans support more gun control measures, but the firearms lobby wields a powerful influence over lawmakers.