Tweets of the Week: Thatcher, Weiner and Paisley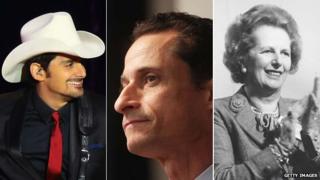 For the week ending 12 April, here is a look at the news in America - all in 140 characters or fewer.
1. Do yourselves a favour this morning and do NOT read the Facebook posts of any British punk bands you may have grown up listening to.
Writer Lyndsey Fifield (@lyndseyfifield). Former British Prime Minister Margaret Thatcher died of a stroke on Monday at the age of 87. Politicians, music stars and social figures across the world were among the hundreds of thousands of people to use Twitter for their comments and tributes.
2. Postal Service cancels move: Your junk mail will still arrive on Saturdays.
Philadelphia Business Journal Managing Editor Dell Poncet (@PHLBizDPoncet). The US Postal Service announced its decision to delay cutting Saturday mail delivery at least until September. In early 2013, the agency said the move was a necessary response to a budget deficit running billions of dollars.
3. North Korea threatens us and we laugh. iMessage stops working and my timeline panics.Welcome to the future.
Actor Mez Merrett (@MezMerrett). iPhone users experienced nearly five hours of service interruptions on Tuesday, causing many to vent their frustrations on social media. Apple says it has sold more than 47 million iPhones since the beginning of the year.
4. Also, remember that time Bey played for Hannibal Gaddafi's NYE party? The Carter Fam's record on despots and autocrats: Not...great.
Complex Magazine editor Foster Kamer (@weareyourfek). Several US lawmakers criticised the Obama administration for giving music stars Beyonce and Jay-Z (real name Shawn Carter) approval to travel to Cuba. Critics say tourism dollars spent in Cuba fund the country's repression of its people.
5. Does Brad Paisley own a pizzeria I can throw a trash can into?
Mother Jones writer Adam Serwer (@AdamSerwer). Country music star Paisley released a new song with rapper LL Cool J entitled Accidental Racist. Intended to foster a dialog about race, the song faced sharp criticism online - and this allusion to the Spike Lee film Do The Right Thing.
6. This Madonna trip to Malawi is a disaster. Is her travel agent John Bolton or something?
Washington Post foreign affairs blogger Max Fisher (@Max_Fisher). Malawi's President Joyce Banda and pop superstar Madonna were involved in a war of words after she allegedly did not receive "special treatment" and officials failed to roll out the red carpet upon her arrival in the African country. For Fisher, it called to mind the brash diplomatic style of former US Ambassador to the UN John Bolton.
7. Check here if the Taxpayer wishes to contribute $3 to the Presidential Election Campaign Fund.Hahahahahahahahaha
Washington Post feature writer Dan Zak (@MrDanZak). Millions of Americans will file their taxes by Monday, 15 April. The tax filing forms include a voluntary contribution to fund US presidential elections - which Zak seems to suggest are already flush with money.
8. In 2009, Obama's budget was called "A New Era of Responsibility". Now, it is just called "Budget".
Former Republican presidential campaign worker Adrian Gray is not impressed with the new Obama budget, which proposed an end to tax loopholes and breaks for the wealthy while also making cuts and reforms to entitlement programs.
9. Four people were accidentally shot by toddlers this week. If only there had been armed, law-abiding toddlers around to stop them.
Author Laila Lalami (@LailaLalami) mocks what she calls #NRALogic following a spate of accidental shooting deaths. This week, the US Senate moved forward with a debate on gun control legislation.
10. It gets smaller when it's cold
Slate political writer David Weigel (@daveweigel), responding to a Washington Post tweet alluding to the "single biggest problem with an Anthony Weiner political comeback". Weiner resigned from the House of Representatives in disgrace after sending lewd tweets to women who were not his wife.
Some tweets have been edited for style and clarity.