Hepatitis A scare at NYC restaurant Alta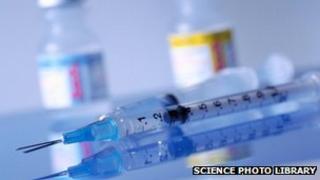 Over 200 diners and workers at a New York eatery have been vaccinated for hepatitis A after an employee handling desserts revealed she had the virus.
Among those treated were 31 employees of Alta restaurant. New York health officials say the tapas restaurant is co-operating.
The city's health department warned of the potential exposure on Friday.
About 3,000 patrons ate at Alta during the 10 days the employee was working, including 450 who ordered dessert.
Health officials told the BBC there have been no confirmed cases related to the restaurant as of Monday.
The restaurant owner said in a statement on Friday the employee was no longer "on the premises".
Hepatitis A is a viral infection of the liver.
It can be spread by putting something in the mouth that had been contaminated with traces of faecal matter from an infected person, even if it appeared clean.
"We are asking these restaurant patrons to get this vaccination as a precautionary measure," New York City Health Commissioner Dr Thomas Farley said in a statement on Friday.
The restaurant employee recently travelled to Mexico and realised she was ill early last week after her return, local media reported.