Two dead in Canada day care centre shooting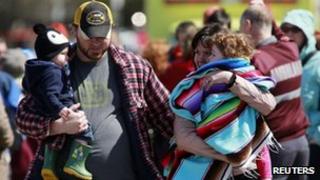 Two men have been shot dead at a day care centre near the Canadian capital, including the gunman investigators believe started the fight.
An armed man was reportedly threatening people at the pre-school, and both men were dead when police arrived.
All 53 children were unharmed. It is unclear whether they witnessed the shooting in the town of Gatineau.
Police Chief Mario Haren said the shooting appeared to be related to a couple's recent break-up.
"We have two deceased. One of the males is responsible for this shooting. The other male works at this day care centre," Chief Haren said.
"Right now we're investigating that this was related to a recent separation between a couple."
On Friday morning, terrified parents rushed to pick up their children, with one calling reports of the shooting every parent's worst nightmare.
Initially, parents and authorities feared the incident could have been far worse. Twenty children and six staff were shot dead at a US primary school in December.