Target apologises for 'Manatee Gray' plus-sized dress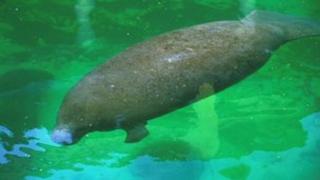 US retailer Target has apologised for labelling a plus-sized dress after a rotund marine mammal.
Uproar followed when a shopper tweeted a screengrab of the "Manatee Gray" dress from Target's website.
A smaller size of the same dress was labelled "Heather Gray". Target has now changed the listing to simply "gray".
"It is never our intention to offend our guests and we apologize for this unintentional oversight," a Target spokeswoman told the BBC.
"Manatee Gray is a seasonal color used across Target product categories, from apparel to home items."
A large, aquatic relative of the elephant, manatees are sometimes called sea cows.