John Kerry returns to Middle East on 'listening tour'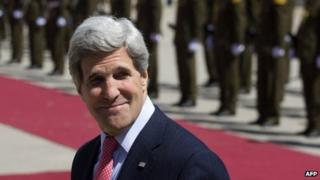 US Secretary of State John Kerry is to visit Jerusalem and the West Bank, his third visit to the Middle East.
US state department officials denied Mr Kerry would present a new peace plan, calling next week's visit a chance "to see what is possible" on peace talks.
The visit was added to Mr Kerry's scheduled trip to Asia, his first as secretary, and will be preceded by a stop in Istanbul to discuss Syria.
Mr Kerry visited Egypt on his first overseas trip as the top US diplomat.
He also accompanied President Barack Obama on a trip to the Middle East last month and then held one-on-one talks with Israeli Prime Minister Benjamin Netanyahu and Palestinian President Mahmoud Abbas in Ramallah in the West Bank.
The US secretary will speak to both leaders again on 8-9 April.
"The secretary is not planning to put a big plan on the table," state department spokeswoman Victoria Nuland said, stressing the trip was a "listening tour".
"He will also be making clear that the parties have to want to get back to the table," she said, warning that "compromises and sacrifices" will have to be made on both sides.
Following the trip to the Middle East, Mr Kerry will travel to Seoul, Beijing and Tokyo.