Texas district attorney third law official killed in weeks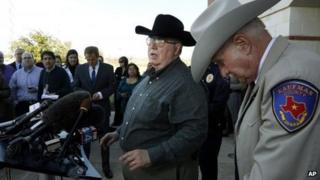 A district attorney has been shot dead in Texas, the third justice official to be killed in the US in recent weeks.
The bodies of Mike McLelland, 63, and his wife Cynthia, 65, were found on Saturday in Kaufman County. His deputy, Mark Hasse, was killed in January.
Last week a suspect in the killing of the head of Colorado's department of corrections died in a shootout with police in Texas.
Authorities are investigating whether any of the cases could be linked.
No arrests have been made over Assistant District Attorney Hasse's killing on 31 January.
But police were reportedly looking into a connection between his death and the 19 March killing of Colorado prisons chief Tom Clements.
White supremacist group
Speaking of McLelland's murder, Kaufman Police Chief Chris Aulbaugh told the Dallas Morning News: "It is a shock.
"It was a shock with Mark Hasse, and now you can just imagine the double shock and until we know what happened, I really can't confirm that it's related, but you always have to assume until it's proven otherwise.''
The lead suspect in Clements' shooting, Evan Spencer Ebel, died in a shootout with police in Decatur, around 135km (85 miles) from Kaufman, on 21 March.
Ebel, 28, was a former Colorado jail inmate and was linked to a white supremacist prison gang called the 211 Crew.
Hasse died the same day as the justice department said the Kaufman County district attorney's office was pursuing a racketeering case against the white supremacist group, the Aryan Brotherhood in Texas.
The indictment, unsealed in November, said the organisation was responsible for killings and arson.
It also said the group had used "extreme violence and threats of violence to maintain internal discipline and retaliate against those believed to be co-operating with law enforcement".
After the killing of Hasse, McLelland had vowed to hunt down the "scum" responsible.
"We're going to pull you out of whatever hole you're in," the district attorney had warned the perpetrators at a news conference.
McLelland previously had a 23-year career in the army, and participated in Operation Desert Storm. He had five children, including a son at the Dallas Police Department.
'Completely senseless'
He was said to have carried a gun with him everywhere, and was extremely cautious when opening the front door of his house, in the town of Forney just outside Dallas.
One neighbour said that after the death of Hasse, a sheriff's official had been posted outside McLelland's home for about a month.
Kaufman County Judge Bruce Wood said: "This is not just an attack on two very fine people, but an attack on the justice system," the Reuters news agency reported.
The judge, who said Mr McLelland was a friend and colleague, added: "I can't fathom someone doing this.
"It is completely senseless, and completely out of the blue. Perhaps it is retaliation, but we won't know that until someone is caught."
In December, the Texas Department of Public Safety warned they had information to suggest the Aryan Brotherhood was "actively planning retaliation against law enforcement officials" who brought charges against gang members, including its leaders, in Houston.
But in a February report, the public safety department said Mexican drug cartels posed the most significant threat to state law enforcement employees.
The district attorney in Houston has accepted round-the-clock security for him and his family, with extra precautions at his office - the largest in Texas with more than 270 prosecutors.