US ex-soldier 'fought in Syria with terror group'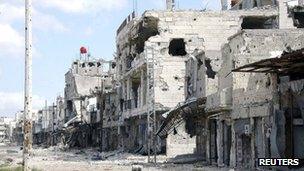 A former US soldier has been charged with using a weapon outside the US as he fought against Syrian government forces, prosecutors say.
Eric Harroun, 30, served in the US Army from 2000-2003, and allegedly fought in Syria with the al-Nusra Front.
Al-Nusra is deemed a terror group by the US as an alias of al-Qaeda in Iraq.
As the US calls for Syrian President Bashar al-Assad to step down, it has also expressed concern about militant groups fighting in Syria.
If convicted, Mr Harroun would face a maximum sentence of life in prison. He was arrested as he returned to the US on Wednesday.
According to a criminal complaint, Mr Harroun is accused of crossing into Syria in January 2013 and fighting alongside members of Jabhat al-Nusra (the Nusra Front) against Mr Assad's forces.
He is specifically charged with "conspiring to use a weapon of mass destruction outside of the United States", a law that applies to US nationals anywhere in the world.
He allegedly fought as part of a group using rocket-propelled grenades (RPGs), and is not charged with providing material support to a terror group.
Mr Harroun was medically discharged from the Army in 2003 after a car accident and lived in Phoenix, Arizona. He never served overseas, according to an Army spokesman.
Prosecutors allege that he was trained to use the RPGs by members of al-Nusra and participated in attacks organised by the group. He also allegedly posted on social media photographs of himself carrying RPGs and other weapons.
Mr Harroun also appeared in two videos about military action in Syria with rebel forces, saying on one: "Bashar al-Assad, your days are numbered... Where you go, we will find you and kill you," the affidavit says.
He previously appeared in at least three media articles as the photographs and videos gained attention, including an interview with FoxNews.com and the website of Foreign Policy magazine by the same set of writers.
In March, the FBI spoke to the former soldier in three voluntary interviews at the US consulate in Istanbul - officials say he told them he wanted to fight with the Free Syrian Army against the Assad regime and allegedly confirmed he had been fighting with al-Nusra.
According to the court records, Mr Harroun said he initially was fighting with the Free Syrian Army but jumped on an al-Nusra truck after a joint attack on a Syrian army camp.
In an interview on Wednesday as he arrived at an airport outside Washington, Mr Harroun allegedly said that he knew the al-Nusra Front had been designated a terrorist organisation by the US.
"Harroun said... al-Nusra fighters would ask him why the United States designed them as terrorists," the complaint said.
He appeared before a US judge for the first time on Thursday and officials said a lawyer would be appointed for him.
Last year, the public defenders' office in the district where Mr Harroun will be tried represented a man who pleaded guilty to spying on US-based Syrian dissidents on behalf of the Assad regime.
In the case, Mohamad Soueid said he was motivated to help the Syrian government because of his fear that Islamist extremists would take hold in Syria if the government regime were overthrown.