Golden Gate: Electronic tolls for San Francisco bridge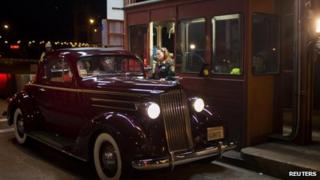 Human toll collectors at one of the world's most iconic bridges have been replaced with an electronic system that photographs licence plates.
The Golden Gate Bridge in San Francisco has closed its traditional toll booths to try to speed up traffic and save money.
Finishing their last shift, some of the toll-takers hugged and cried as they left their booths.
"Our DNA is embedded in this bridge... we are part of it," said Jacquie Dean.
The new system is costing $3.4m (£2.2m) to implement and is expected to save about $17m over the next eight years.
The Golden Gate suspension bridge - which spans the opening of the San Francisco Bay into the Pacific Ocean - is one of America's best known landmarks.
For more than 75 years, the toll-takers have been the human face of the bridge.
About 70% of motorists already use an electronic pass system to pay the $5 toll. Now all drivers are being told not to stop and to pay later.
Regular bridge users can sign up to the existing FasTrak system which provides motorists with a tag fitted to the windscreen which is read electronically.
They can also set up licence plate accounts or receive bills in the post.
Nine full-time workers and 29 part-time staff are losing their jobs on the bridge, reports say. Some are being placed in other district positions or are retiring.
But Ms Dean lamented the change, saying: "Some customers still want to pay cash. They don't want to be tracked and photographed.''
"Golden Gate's toll-takers deal with people of all walks of life, new drivers and older motorists, wealthy and broke, friendly and cranky, and rushed and leisurely," said the local news website Marin Independent Journal in an editorial.
"For years, they've been the everyday ambassadors for the bridge, fitting in a smile and a greeting into the required precision of their jobs, collecting tolls from 110,000 passing motorists daily."