Jerry Sandusky: Joe Paterno would have fired me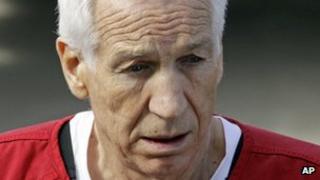 The US football coach convicted of molesting boys over more than a decade has said he would have been fired if his boss believed he was a paedophile.
In an interview, Jerry Sandusky of Pennsylvania State University again protested his innocence, saying he had not harmed anyone.
His boss, Joe Paterno, one of the most successful coaches in US college football history, died last year.
Sandusky, 69, is currently serving 30 to 60 years in solitary confinement.
Sandusky, who was an assistant coach to Paterno co-ordinating the team's defence, spoke with filmmaker John Ziegler, in interviews partly aired on NBC's Today programme on Monday.
Ziegler's project seeks to clear Paterno of wrongdoing after a report by former FBI director Louis Freeh criticised four university leaders - including Paterno - saying they had "failed to protect against a child sexual predator harming children for over a decade".
"If [Paterno] absolutely thought I was [a paedophile], I'd say no,'' Sandusky said in prison interviews. "If he had a suspicion, I don't know the answer to that."
According to transcripts posted on the filmmaker's website, Sandusky admitted having "tested boundaries" with the young people, conceding he should not have showered with them.
But he continued to deny wrongdoing, saying: "I didn't do any of these horrible acts and abuse these young people. I didn't violate them. I didn't harm them."
The Paterno family distanced themselves from the filmmaker's project.
A lawyer for the family said they "would prefer to remain silent on this matter, but they feel it is important to make it clear that they had no role in obtaining or releasing this recording."
"Moreover, they believe that any attempt to use this recording as a defense of Joe Paterno is misguided and inappropriate."
Sandusky also accused one of the young men whose testimony of abuse was central to the prosecution's case against him of having a financial motive for coming forward.
The man has filed a lawsuit against Pennsylvania State University, accusing the university of enabling his abuse by Sandusky.
In a statement to NBC News, lawyers for that man said he had "heard enough from Jerry Sandusky", adding he and other victims were "focused on healing and holding Penn State accountable for choosing to protect Jerry Sandusky and themselves instead of protecting children from years of horrific sexual abuse".
Sandusky molested boys he met through the Second Mile, a charity he founded for at-risk youth.
His arrest in November 2011 set off a crisis at the US university, where the football programme is central to campus spirit and the university's identity.
"Jerry Sandusky's statements today continue to open wounds for his victims, and the victims of child sexual abuse everywhere," the university said on Monday in a statement.
"We have tremendous respect for the men who came forward to tell their stories publicly. Penn State continues to take important steps, including the training of more than 11,000 employees and volunteers on how to recognize and report suspected child abuse."
At the trial, the boys - now grown - testified that they were abused at Sandusky's home, in hotels and at Penn State athletic facilities.
In October, he was convicted of 45 charges of molestation.
The university was severely punished by the National Collegiate Athletic Association.
Among other sanctions, it was fined $60m (£39.4m), banned from competing in championship games for four years, stripped of 10 scholarships per year, and had all wins from 1998-2011 erased from the record books.