US Marine 'shoots two and himself' at Quantico base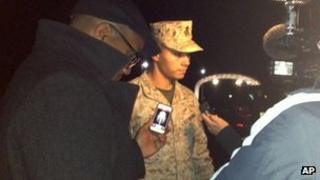 A US Marine has shot dead a male and female comrade before turning the gun on himself at a base in the state of Virginia, say military officials.
The shootings happened on Thursday night at Quantico Marine Corps base, not far from Washington DC.
Officials say the gunman opened fire, then barricaded himself in a barracks dorm room and took his own life.
All three were on the staff of the Corps's officer candidate school. It is unclear what motivated the shootings.
Base commander Col David Maxwell told reporters that authorities were called to the scene at about 22:30 on Thursday (02:30 GMT on Friday).
Pentagon spokesman George Little told the BBC that Defence Secretary Chuck Hagel had been made aware of the incident.
"[Mr Hagel's] heart and his prayers are with them and their families," said Mr Little. "He believes that the legendary strength of the United States Marine Corps will ensure that they are forever remembered.
The shooting comes days after seven Marines were killed at the Hawthorne Army Depot, Nevada, when a mortar shell accidentally exploded during a training exercise.