US General Kelly plays down Guantanamo hunger strike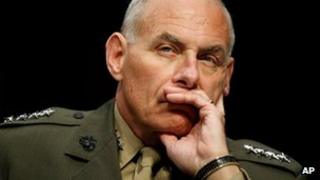 A senior United States military commander has played down reports that a group of Guantanamo Bay prison inmates are on hunger strike.
Gen John Kelly, the head of US Southern Command, told the House Armed Services Committee that some prisoners "were eating a bit, but not a lot".
Reports say the protest against alleged mishandling of the Koran began in February. Gen Kelly denied such abuse.
More than 20 inmates are now thought to be on hunger strike, the jail says.
Prison spokesman Navy Capt Robert Durand said the number had risen from 14 on Friday.
Eight of them had lost so much weight that they were being fed through tubes and two were being treated for dehydration, he added.
Gen Kelly said it was difficult to confirm how many of the inmates were on hunger strike, because the prisoners eat communally.
That makes it difficult to know whether they have skipped nine consecutive meals, which is the definition of hunger strike in the detention centre, he said.
"Generally speaking, we think about 24 of them are on, say, hunger strike light, where they're eating a bit but not a lot, but they've declared that they're not eating," Gen Kelly told reporters at the Pentagon.
Last week, a group of 50 lawyers representing Guantanamo prisoners sent a letter to US Defence Secretary Chuck Hagel.
They urged him to take measures to end the hunger strike, which they said began on 6 February, after photographs and correspondence were allegedly seized and copies of the Koran mishandled during searches of prisoner's cells.
Gen Kelly called the accusations "nonsense" and put the hunger strike down to "frustration".
"No way has the Koran in any way, shape or form been in any way abused or mistreated," he told reporters.
He said that of the Guantanamo staff, only translators, who were themselves Muslims, were allowed to touch the Koran.
Hunger strikes have happened frequently in the Guantanamo Bay detention centre, but this is reportedly one of the longest and more widespread protests.