Colorado introduces landmark gun laws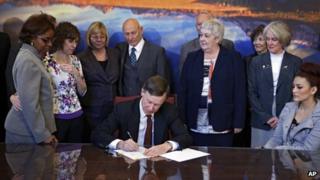 The US state of Colorado has tightened its gun laws, to impose limits on the size of ammunition magazines and expand background checks for gun buyers.
It comes exactly eight months after a massacre at a cinema in Aurora, Colorado, that left 12 people dead.
Relatives of the victims saw Governor John Hickenlooper sign the bills.
It makes Colorado the second state after New York to pass gun control measures since 26 people were shot dead at a school in Connecticut in December.
Under the new law, online gun sales and private transactions will be subject to background checks.
Ammunition magazines with more than 15 rounds will be banned in the state. The bills take effect in July.
'A real gift'
Gov Hickenlooper, who describes himself as supporter of gun rights, was applauded as he signed the legislation.
Sandy Phillips, whose daughter was killed in the Aurora cinema shooting, was among the guests at the ceremony at the Capitol building in Denver.
"You've given us a real gift today,'' she told the governor.
Jane Dougherty, whose sister was killed in the school attack in Newtown, Connecticut, was also present. She praised the governor for "leading the entire country".
But critics of the latest measure warned that Colorado Democrats would be hurt at the polls as a result of the new rules.
Greg Brophy, a Republican member of the state's Senate, said: "I'm telling you, they have overreached, and there are going to be electoral consequences."
Two ballot measures have already been proposed to undo the restrictions.
After the Columbine High School shootings in 1999, Colorado lawmakers successfully introduced background checks for buyers at firearms shows.
But that did not go as far as the bill signed on Wednesday.
Gun control measures have meanwhile been killed off in Washington DC.
On Tuesday, a lack of support forced the US Senate to drop a plan to ban high-capacity magazines and assault weapons.
'Zero' chance
The sponsor of the bill, Senator Dianne Feinstein, is demanding the full 100-member chamber at least vote on her proposal.
"I'm not going to lay down and play dead," she told CNN. "I think the American people have said in every single public poll that they support this kind of legislation."
Other gun control measures being proposed in the US Senate include harsher punishments for illegal gun trafficking and more money for security at schools.
But Republican Senator James Inhofe told AFP news agency on Tuesday that he now believed "zero" bills tightening gun laws would pass Congress this year.
Colorado's success in passing gun control bills comes two months after New York state introduced even more sweeping measures.
It beefed up its existing assault weapons ban, limited the number of bullets allowed in magazines and required therapists to report potentially harmful behaviour by mental health patients.
However, Washington state's Democratic-controlled House failed this month to advance a universal background check bill.
And a bill requiring background checks at gun shows in New Mexico also sunk in that state's Democratic-led legislature.
Opinion surveys have shown that a majority of Americans favour tighter gun control, but influential pro-gun lobby groups such as the National Rifle Association have pressed lawmakers to oppose such a move.