Barack Obama pitches $2bn clean energy research fund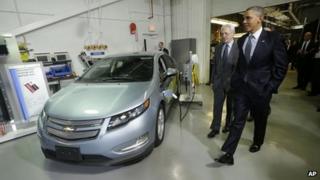 US President Barack Obama has called for pumping $2bn (£1.3bn) from gas and oil royalties over a decade into clean energy research.
In the first energy speech of his second term, Mr Obama made the case for an energy security trust while visiting a Chicago research laboratory.
The president first proposed the idea in his State of the Union address.
The White House says the trust would not increase the US deficit because oil and gas revenues are projected to rise.
But creation of a trust, at $200m a year for 10 years, would still require congressional approval, at a time of sharp divides over energy issues.
"The only way to break this cycle of spiking gas prices, the only way to break that cycle for good, is to shift our cars entirely, our cars and trucks, off oil," the president said after his tour of the University of Chicago's non-profit Argonne National Laboratory.
Argonne is known for its groundbreaking research into advanced batteries used in electric cars.
No new drilling
Mr Obama said he expects Americans to use half as much petrol by the middle of the next decade, given policies that already require automakers to increase fuel mileage.
His proposal is modelled on one by a group of business executives and former military leaders, who want to reduce US oil dependence. They include FedEx chief executive Frederick Smith.
Money for the trust would come out of revenues from federal leases on current offshore drilling. The US government collects more than $6bn a year from production on federal lands and waters.
Unlike the business group's proposal, the White House says it will not require the expansion of drilling.
The fund would be used to sponsor research for technologies such as electric-car batteries, bio-fuels, natural gas or other non-oil fuel sources.
In a bid to make it attractive to both parties, Mr Obama has argued that such a trust would not only be good environmental policy, but also a job-creation programme that would keep the US a technology leader.
But a spokesman for House Speaker John Boehner said Mr Obama needs to expand drilling to get the support of the House's top Republican.
"For this proposal to even be plausible, oil and gas leasing on federal land would need to increase dramatically," said the spokesman, Brendan Buck.
On his way to Argonne, Mr Obama's motorcade passed protesters demonstrating against the proposed Keystone XL pipeline, which would transport oil from Canada's tar sands to US Gulf Coast refineries.
Republicans have pilloried Mr Obama's administration for delaying approval of the Keystone pipeline.
White House spokesman Josh Earnest told reporters new investments in green energy technology were more important for easing the effects of climate change than whether or not the controversial pipeline gets built.
During his first term, Mr Obama's administration invested $90bn of stimulus money into green energy projects.
But the high-profile failure of California solar panel maker Solyndra, which had received $527m of government money, became a political cudgel for Republicans to bash the White House.