Mother of slain NYC teen Kimani Gray speaks out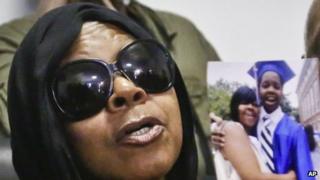 The mother of a New York City teenager whose shooting by police has caused three days of community protests says her son was slaughtered.
Carol Gray disputes the police account that Kimani Gray, 16, threatened officers with a handgun.
Forty-six people were arrested after a vigil turned into a confrontation with police on Wednesday night.
Community members in the Brooklyn area of East Flatbush say police regularly harass young black men.
Gray was black; the police officers involved in the shooting were black and Hispanic. They have been placed on administrative duty during the investigation.
The teenager was pronounced dead at hospital after Saturday's incident.
'Fair investigation'
A post-mortem examination found he had been shot seven times, including three times in the back, but did not detail the order in which the bullets hit.
Carol Gray said her son had been killed in front of his best friend's house after leaving a birthday party on Saturday. She sobbed as she spoke of choosing her son's coffin.
The teenager was with a group, but left when he saw officers in an unmarked car, according to police.
They said Gray pointed a .38 calibre revolver at plain clothes officers who approached him because he was acting suspicious.
In an unrelated press conference on Thursday, Mayor Mike Bloomberg said: "So far, all indications are that the young man had a gun, and I can promise you that we will conduct a full and fair investigation."
He said a weapon found at the scene was originally purchased in Florida.
A lawyer for the family, Kenneth Montgomery, questioned the police department's account of how the youth died. He said the family wants to know how the gun was recovered and by whom.
Most of those arrested on Wednesday evening, the third straight day of protests, were charged with disorderly conduct.
'Within the guidelines'
According to a report in the New York Times, the situation escalated when about half the participants marched to a police station and officers in riot gear blocked a street.
Some later threw bottles at police and an officer suffered a gash to the face after he was hit by an object tossed from a building.
Police Commissioner Raymond Kelly told reporters the shooting appeared to be within the guidelines that an officer may use deadly force if he or she has a reasonable fear of serious injury or death.
Gray's cousin, Ray Charles, said he was having trouble accepting the NYPD version of events.
"My cousin was scared of guns,'' Mr Charles said. "I honestly just want justice. They didn't need to shoot him like that."
Gray's death occurred in the same neighbourhood where police killed a 23-year-old woman who was allegedly trying to escape in a stolen car last year.
Most of the people shot by New York City police in 2011, the latest available statistics, were black and Hispanic.
Of the nine that were killed, five had guns, two had knives, one tried to ram officers with a car and another was choking an officer, according to a police report.