Illinois golfer plunges down sinkhole on the 14th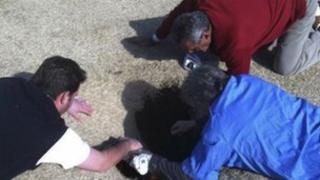 An Illinois man has survived an 18ft (5.4m) fall inside a sinkhole while he was golfing, two weeks after another sinkhole swallowed a person in Florida.
Mark Mihal, 43, was investigating an unusual depression when the earth gave way on the 14th hole of the fairway in Waterloo, Illinois.
Friends managed to bring the mortgage broker to safety with a rope, and he escaped with only a sore shoulder.
Mr Mihal said he felt lucky to survive the "absolutely crazy" accident.
"It didn't look unstable,'' Mr Mihal said of the slump in the ground, which exposed a 10ft-wide sinkhole once he stood on it. "And then I was gone.
"I was just freefalling. It felt like forever, but it was just a second or two, and I didn't know what I was going to hit. And all I saw was darkness.''
Such holes are common in south-western Illinois, where old underground mines frequently cause the earth to cave in.
According to Sam Panno, a senior geochemist with the Illinois State Geological Survey, there are as many as 15,000 sinkholes in the region.
Florida man Jeffrey Bush, 36, is presumed dead after a sinkhole swallowed his bedroom near Tampa this month.