Craigslist killings: Richard Beasley found guilty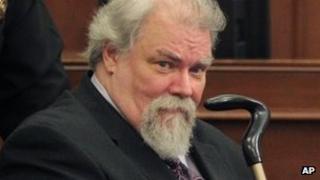 The "mastermind" of a plot to lure men to their deaths with bogus jobs ads on the Craigslist website has been found guilty of aggravated murder.
Richard Beasley, 53, could now face the death penalty after being found guilty of murdering three men in Ohio.
His teenage accomplice, Brogan Rafferty, was sentenced to life in prison without parole last November.
A man who survived being shot - a key witness at both trials - gave harrowing testimony of fleeing for his life.
As well as aggravated murder - "aggravated" in this case because the murder was planned in advance - Beasley was convicted of aggravated robbery, kidnapping and attempted murder.
The jury will reconvene, reportedly on 20 March, to consider whether to recommend the death penalty for him.
'Gun cocked'
As the verdict was read out, relatives of the victims hugged and wiped away tears while Beasley slumped over, his head in his hands, and his mother sobbed.
During the trial, prosecutors had argued the three murder victims - each single and out-of-work, with few family ties - had been lured with offers of farmhand jobs.
But Ralph Geiger, 56, David Pauley, 51 and Timothy Kern, 47, were shot dead. Beasley had intended to rob his victims and steal their identities, prosecutors said.
"He was the mastermind behind this plot,'' said prosecutor Jonathan Baumoel.
Survivor Scott Davis, 49, told the court he had heard a gun being cocked as he walked in front of Beasley after arriving for the supposed job interview.
He pushed the weapon aside and was shot in the arm, he said.
"I spun around,'' testified Mr Davis. "I was worried about bleeding to death."
Mr Davis gave chilling testimony of running through the woods and hiding for seven hours.
Beasley had argued that it was Mr Davis who pulled the gun.
Rafferty had argued at his trial that he had been powerless to stop the killings, saying he feared for his life and the lives of family members.
But this version of events was rejected by the jury.