Former Mountie arrested over weapons arsenal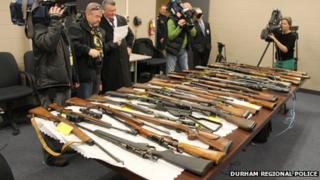 A former Canadian Mountie has been arrested after police discovered an arsenal of firearms, grenades and a cannon in his home.
David Kift, 55, and his wife Marion, 53, were arrested after police found the cache in two hidden compartments built into the walls of their house.
Kift is already banned from possessing weapons after being convicted in 2007 of 10 firearms offences.
The Kifts now face hundreds of charges related to the illegal weapons cache.
Ms Kift is free on bail while her husband, who left the Royal Canadian Mounted Police (RCMP) in 1996, is in custody.
Ontario Provincial Police and Durham Regional Police told reporters they had found a total of 67 firearms after receiving a tip about a cache of weapons.
"As police officers, we never want to see this kind of firepower in one place," Durham Inspector Mario Lessard told reporters.
"It tends to attract attention and could be the target of criminals who want these weapons for their illegal activities."
Insp Lessard said it was suspected that Kift had been manufacturing or altering weapons, as machining equipment was found nearby.
"There's no possible reason why anybody would have such an arsenal," he said
Defence officials were called in to remove landmines, grenades and other weaponry, police said.
Also found were crossbows, a stun gun, 32in (76cm) cannon and tens of thousands of rounds of ammunition.