Aurora shooting: Not guilty plea entered for James Holmes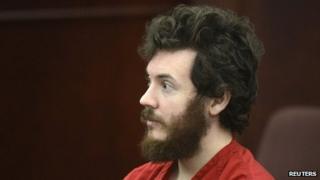 A Colorado judge has entered a not guilty plea for the man accused of killing 12 in a theatre massacre, after lawyers said he was not ready to plead.
Judge William Sylvester said James Holmes can change his plea later to not guilty by reason of insanity.
Mr Holmes, 25, is charged with multiple counts of murder and attempted murder for the July 2012 attack, one of America's worst mass shootings.
If convicted, he could face execution or life in prison.
As well as the 12 people killed, dozens were wounded in the attack at a midnight screening of a Batman film near Denver.
The accused sat silently in court on Tuesday, after looking at his parents, James and Arlene Holmes, as he walked into the room.
Defence lawyers have repeatedly raised questions about the accused's mental health, including a recent revelation that he was held in a psychiatric ward for several days last autumn, often in restraints, because he was considered a danger to himself.
During the hearing on Tuesday, Mr Holmes' lawyers said they could be ready to enter a plea by May or June, citing unspecified "ongoing work scheduled".
"So how am I supposed to make an informed decision?" Judge Sylvester said before entering the not guilty plea.
Analysts initially expected Mr Holmes to enter a plea of not guilty by reason of insanity.
Such a plea means he would be committed indefinitely to a state mental hospital if a jury agrees, but it would also open up his mental-health records to prosecutors.
The not guilty plea entered on Tuesday means prosecutors do not have access to those files.
No matter how Mr Holmes pleads, he could still be convicted. Prosecutors say they will announce on 1 April if they want to pursue the death penalty.
At the time of the shooting, Mr Holmes was a graduate student in neuroscience at the University of Colorado in Denver, but was withdrawing from his studies after failing a key exam.
Prosecutors have argued he methodically planned the shooting for months, amassing weapons and elaborately booby-trapping his apartment to kill anyone who tried to enter.
"There is no doubt that he knew what he was doing was wrong. There's no doubt it was premeditated,'' Tom Teves, whose 24-year-old son, Alex, died during the attack while shielding his girlfriend, told the Associated Press news agency.
"There's no doubt he did it. Zero. So why are we playing a lot of games?''
If the former student pleads not guilty by reason of insanity, it would extend the proceedings while he is evaluated by state mental health officials. The current trial is scheduled for August.