Maine town of Byron shoot down mandatory gun-ownership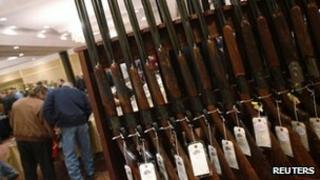 A small town in the US state of Maine has unanimously rejected a proposal to require each household to own a gun.
About 60 people attending the Byron annual town meeting voted against, including the resident who originally came up with the proposal.
It was expected to be unenforceable because the state does not allow municipal firearm laws.
Byron's vote came amid a White House campaign to strengthen gun laws after a mass school shooting in December.
A handful of communities across the US have considered similar measures in support of gun ownership and as a crime deterrent.
Rising crime rate
Head selectman Anne Simmons-Edmund had initially supported the measure as part of Byron's annual town meeting, but voted against it saying it needed to be reworked and reintroduced to clarify exemptions.
"My purpose was to make a statement in support of the Second Amendment," she said before the vote, referring to the clause in the US Constitution that mentions the right of citizens "to keep and bear arms".
Restrictions on lawful gun ownership vary by state.
Ms Simmons-Edmund, who is also a police officer in nearby Dixfield, said 90% of residents in the town already own a firearm, but the measure also reflected community concern about the remote area's rising crime rates, which she said had nearly tripled in the last year.
Her father, Bruce Simmons, had originally suggested the proposal.
"I feel we accomplished what we set out to do and I hope we will wake this town up," Mr Simmons told Reuters news agency. "We made a statement to the federal government that they can't take our guns away."
He said he had voted it down because the wording was wrong - the proposal should have "recommended" rather than "required" gun ownership.
Byron residents rejected the proposal for several reasons.
Randy Richards told the Associated Press he was a gun owner, but resented the proposal because it was government overreach.
A similar proposal failed in Sabattus, Maine, where town officials voted not to send the measure to voters.
The Atlanta suburb of Kennesaw, Georgia, passed a similar law in 1982, and two other cities - Spring City, Utah, and Greenleaf, Idaho - have laws on the books recommending gun ownership for all households.
Nelson, Georgia, is also set to vote on mandatory gun ownership on 1 April.