Bin Laden 'aide' Sulaiman Abu Ghaith pleads not guilty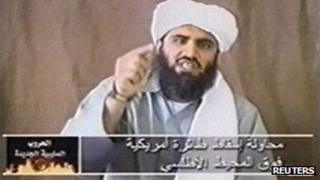 The man described as a spokesman for Osama Bin Laden has pleaded not guilty in New York to charges he helped plot the 9/11 attacks on the US.
Sulaiman Abu Ghaith, 47, was turned over to US officials in Jordan within the last week after being deported from Turkey, authorities have said.
A Kuwaiti preacher, Mr Abu Ghaith is Bin Laden's son-in-law, officials said.
The Obama administration's decision to try him in civilian court has been criticised by Republicans.
They say Mr Abu Ghaith should be sent to the US detention centre at Guantanamo Bay, Cuba, to face a military tribunal.
Bin Laden was killed in a May 2011 raid on his hideout in Pakistan by a team of US commandos.
'Incite US enemies'
On Friday, Mr Abu Ghaith pleaded not guilty to conspiracy to kill US nationals, in a federal courtroom in lower Manhattan about half a mile (0.8km) from the site of the 11 September 2001 attack on the World Trade Center.
Prosecutor John Cronan told the court that Mr Abu Ghaith had given an "extensive post-arrest statement" totalling 22 pages.
A trial is set to begin on 8 April and is expected to last about three weeks.
"Sulaiman Abu Ghaith held a key position in al-Qaeda, comparable to the consigliere in a mob family or propaganda minister in a totalitarian regime," said FBI Assistant Director-in-Charge George Venizelos.
"He used his position to threaten the United States and incite its enemies."
In court filings, US prosecutors say Mr Abu Ghaith served alongside Bin Laden from May 2001 to 2002, speaking on behalf of al-Qaeda and warning that attacks similar to 9/11 would continue.
Specifically, on 12 September 2001, he appeared with Bin Laden and Ayman al-Zawahiri to warn the US that a "great army is gathering against you" and called upon "the nation of Islam" to do battle against "the Jews, the Christians and the Americans", prosecutors wrote.
A one-time teacher and mosque preacher in Kuwait, Mr Abu Ghaith was stripped of his Kuwaiti citizenship after 9/11.
In 2002, as the US launched a war in Afghanistan to defeat al-Qaeda and its Taliban hosts, Mr Abu Ghaith fled al-Qaeda's Afghanistan base for neighbouring Iran, prosecutors allege.
He was reportedly smuggled into Iran with two other senior al-Qaeda leaders. Unconfirmed reports said they were held under house arrest by Iran's Islamic Revolutionary Guard Corps.
US authorities have released little information about Mr Abu Ghaith's capture.
Reports suggest he crossed into Turkey from Iran and was arrested by the authorities in the Turkish capital Ankara.
FBI involvement
Turkish authorities were in the process of deporting him to Kuwait, but during a stop-over in Jordan he was handed over to US authorities, reports say.
A Jordanian security official told the Associated Press news agency that Mr Abu Ghaith was given to US officials last week under the countries' extradition treaty.
Reports also indicate that the FBI took the lead role in the operation as part of a multi-agency body, the High-Value Detainee Interrogation Group.
The group was set up after President Barack Obama shut down a controversial CIA programme that had detained suspects in a network of secret prisons under George W Bush's administration.
Mr Abu Ghaith's trial will mark one of the first prosecutions of a senior al-Qaeda leader on US soil.
Since 9/11, 67 foreign terror suspects have been convicted in US federal courts, according to data obtained by the group Human Rights First.
Some US lawmakers disagreed with the decision to try Mr Abu Ghaith in New York.
"When we find somebody like this, this close to Bin Laden and the senior al-Qaeda leadership, the last thing in the world we want to do, in my opinion, is put them in a civilian court," said Republican Senator Lindsey Graham on Thursday.
"This man should be in Guantanamo Bay."
A senior administration official told the BBC that Mr Obama's national security team "unanimously agreed" that prosecution of Mr Abu Ghaith in federal court was in America's national security interests.
"The administration is seeking to close Guantanamo, not add to its population," the official said.