John Brennan confirmed as CIA head after filibuster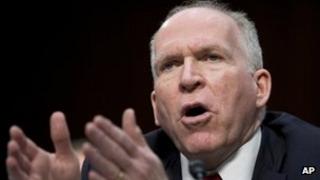 The US Senate has confirmed John Brennan as the new director of the CIA, after a senator's 13-hour speech delayed the vote.
Senator Rand Paul took to the Senate floor on Wednesday to question whether President Obama had authority to order drone strikes on Americans on US soil.
Attorney General Eric Holder replied the president claimed no such power.
Some of Mr Obama's second-term nominees have faced protracted confirmation battles with Senate Republicans.
"With the bipartisan confirmation of John Brennan as director of the Central Intelligence Agency, the Senate has recognised in John the qualities I value so much," President Barack Obama said in a statement.
"With John's 25 years of experience at the Agency, our extraordinary men and women of the CIA will be led by one of their own."
Mr Brennan was President Obama's top counter-terrorism adviser and he had long appeared to hold enough votes to win confirmation.
But a final vote was held up by both Sen Paul's marathon speech, known as a filibuster, and by requests from an intelligence panel to see White House documents laying out the legal basis for drone strikes on US citizens in anti-militant strikes overseas.
Mr Brennan was confirmed on Thursday by a 63-34 vote.
'Answer is no'
Sen Paul - a critic of the use of drones - had demanded a pledge from either President Obama or Mr Holder that drones would not be used in the US to kill US citizens.
As Mr Obama's top counter-terrorism adviser, Mr Brennan helped oversee the drone programme.
Sen Paul began the Senate floor filibuster about noon on Wednesday, a day after Mr Brennan's nomination was approved by the Senate intelligence committee.
Also on Wednesday, Mr Holder testified in front of a separate committee and was pressed on the drone programme.
Sen Paul said Mr Holder's responses in that hearing had come close to assuring him the government would not attack Americans with drones in the US, but he said he was "alarmed" by the difficulty of getting the White House to define clearly what qualified as a legitimate target.
On Thursday, Mr Holder sent a 43-word statement to Sen Paul: "It has come to my attention that you have now asked an additional question: 'Does the president have the authority to use a weaponised drone to kill an American not engaged in combat on American soil?'
"The answer to that question is no."
Sen Paul claimed victory and the Senate proceeded to a vote.
Mr Brennan's nomination was the latest in a series of tough confirmation battles as Mr Obama rounds out his second term-leadership team.
But Mr Brennan largely avoided a personally bruising nomination process like that experienced by Defence Secretary Chuck Hagel.
Mr Hagel was confirmed in a 58-41 Senate vote after Republicans stalled his nomination for more than a week, questioning his past positions on Israel and Iran and his qualification for the job.