John Wilpers, WWII veteran and Tojo captor, dies at 93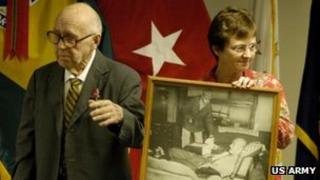 The US soldier who arrested Japanese Prime Minister Gen Hideki Tojo to face trial for war crimes at the end of World War II has died aged 93.
John Wilpers was the last surviving member of the team that captured the Japanese leader on 11 September 1945.
Tojo had just shot himself in a suicide attempt when the five-man team of Americans arrived at his house. Wilpers is credited with keeping him alive.
Wilpers died on Thursday at a nursing home in Garrett Park, Maryland.
Later in Wilpers's life, the US Army recognised his leadership in Tojo's arrest. He was awarded the Bronze Star in 2010 at age 90.
Wilpers never talked publicly about the operation until he received the military honour.
"He was terribly proud of what he did but was not boastful," his son John Wilpers told the Associated Press.
Wilpers was born in Albany, New York in 1919 and grew up in the nearby town of Saratoga Springs. He was 25 at the time of the mission.
After enlisting in the Army Air Corps in 1942, he transferred to a counter-intelligence unit and was among the first US troops to enter Japan after the surrender that ended World War II.
According to the US Army, Wilpers and his team were able to locate Tojo within 24 hours of the assignment, apparently by following newspaper reporters to his home in a Tokyo suburb.
As the soldiers arrived at the house they heard a gun shot and broke down the door to find Tojo had shot himself in the chest in a suicide attempt.
Wilpers is said to have seized the weapon from Tojo and held a Japanese doctor at gunpoint, ordering the man to treat the wounded general until an American doctor arrived.
The Japanese leader survived and was brought to trial, where he was convicted as a Class A war criminal; He was executed in December 1948.
Wilpers went on to spend 33 years working for the Central Intelligence Agency. He retired from the US Army reserve in 1979 as a colonel.