Robert Champion case: Charges upgraded to manslaughter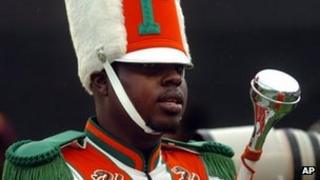 Twelve former members of Florida A&M's university marching band have been charged with manslaughter over the death of a drum major.
Ten had already been charged with felony hazing, related to the death of Robert Champion, 26, in May 2012.
He was allegedly beaten to death in a university bus in 2011 after a game.
In the wake of his death, the famed marching band was suspended and the university president resigned after a no-confidence vote from trustees.
Defence lawyers said they were told of the additional charges by email, minutes before a hearing in the case.
"We were certainly not expecting that firework," Craig Wellington told Reuters.
'Courage'
The new charges carry a sentence of up to 15 years in prison, if the defendants are convicted. The two additional band members who were charged for the first time on Monday have not yet been arrested.
Through a family lawyer, the Champions applauded Florida State Attorney Jeff Ashton's "courage" in amending the charges to reflect "the heinous crime committed", the Orlando Sentinel reported.
Prosecutors had originally filed hazing charges because they would only be required to prove the band members took part in the hazing, not who struck the deadly blows.
Two former members who earlier pleaded no contest and have been sentenced were not charged on Monday.
Medical officials said Champion died of internal bleeding and had bruises on his chest, arms, shoulder and back. Witnesses told emergency dispatchers that the drum major was vomiting before he was found unresponsive aboard the bus.
He died within an hour, the medical officials said.