Jack Lew confirmed as next US treasury secretary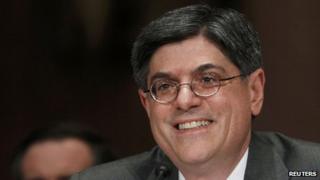 Jack Lew has been confirmed as the next US treasury secretary in a 71-26 vote of the Senate.
Mr Lew, 57, was recently chief of staff to President Barack Obama, who nominated him to the new role.
Mr Lew takes up his post amid tense negotiations between the White House and congressional Republicans.
They are fighting over a looming series of spending cuts know as the sequester, which would cut $85bn (£56bn) from the federal budget this year.
The cuts, which are set to begin to take effect on Friday if Congress does not act to avert them, would be split between defence and domestic programmes, with a total of $1.2tn reductions until 2022.
After the vote, Mr Obama praised Mr Lew's qualifications and said he had been by his side "as we confronted our nation's toughest challenges".
"His reputation as a master of fiscal issues who can work with leaders on both sides of the aisle has already helped him succeed in some of the toughest jobs in Washington," Mr Obama said.
Before working as Mr Obama's chief of staff, Mr Lew was his budget director. He also filled that role under President Bill Clinton.