US Secretary of State John Kerry on first official trip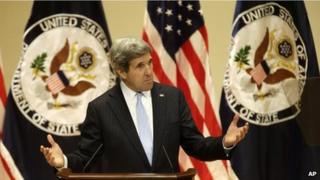 John Kerry has set off for his first foreign trip as US secretary of state, with the Syrian conflict high on his agenda in Europe and the Middle East.
Mr Kerry is expected in London on Sunday. He will visit nine countries, including France, Turkey and Egypt.
In Berlin, he will meet Syrian opposition members and representatives of nations supporting them.
Mr Kerry has said he plans to use the trip to propose ideas on persuading the Syrian president to step aside.
While in Berlin, he will also meet his Russian counterpart, Sergei Lavrov, at a time when relations between the US and Russia are cool.
Familiar field
The US has sought Russia's backing to convince the Syrian President Bashar al-Assad that he is isolated internationally.
The former Massachusetts senator and 2004 Democratic presidential candidate is no stranger to foreign affairs, having spent almost three decades in the US senate as a member of the Senate Foreign Relations Committee.
Mr Kerry's schedule includes meetings foreign ministers and leaders in European capitals including Paris, Rome and Ankara before a tour of the Middle Eastern cities including Cairo, Abu Dhabi and Riyadh.
Though the Middle East peace process will be on the agenda when he visits Turkey, Egypt and Saudi Arabia, Mr Kerry will not visit Israel or the Palestinian Territories.
President Barack Obama is expected to make the first trip of his presidency to Israel next month.
Iran's controversial nuclear programme, which the country insists is for peaceful purposes, will also be on the new secretary of state's agenda.
On Tuesday, US officials along with counterparts from Britain, China, France, Germany and Russia will meet Iranian officials in Kazakhstan to attempt to persuade Iran to curtail its nuclear ambitions.