US denies German claim over US troops in Afghanistan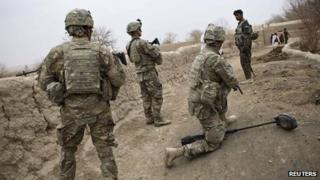 The US Secretary of Defense Leon Panetta has denied German claims that he confirmed the number of US troops in Afghanistan after Nato's exit in 2014.
Germany's Defence Minister said earlier Mr Panetta had told Nato allies in Brussels that 8,000 to 12,000 US troops would stay put.
Mr Panetta said "several figures were discussed" but no specific numbers had been committed.
Most international troops are due to leave Afghanistan by the end of 2014.
In December 2012 there were about 102,000 Nato troops serving in Afghanistan from 50 contributing nations, according to the International Security and Assistance Force.
Of these the bulk - about 66,000 - are US troops.
'Inaccurate'
German Defence Minister Thomas de Maiziere told reporters on Friday that Mr Panetta had confirmed the numbers during a Nato meeting in Brussels.
The two-day conference was aimed at discussing military capabilities and defence investment.
"The American defence secretary announced that the United States will be in a magnitude of 8,000 to 12,000 troops involved in Afghanistan" after 2014, Mr de Maiziere said.
Mr Panetta said the claim was "inaccurate".
"We did discuss a range of options that would be directed to the NATO force overall, which includes both the US force contribution, plus what other NATO countries would contribute as well," he said at a news conference.
Although 8,000 to 12,000 troops had been mentioned among those figures, they referred to the total number of post-2014 Nato troops in Afghanistan, he explained.
"The President is still reviewing options and has not made a decision about the size of a possible US presence after 2014, Mr Panetta's department said in a statement.
"We will continue to discuss with Allies and the Afghans how we can best carry out two basic missions: targeting the remnants of al-Qaeda and its affiliates, and training and equipping Afghan forces."
The US defence secretary added that officials were planning to leave troops in all sectors of the country - north, south, east and west - as well as in the capital, Kabul.
Meanwhile Nato Secretary General Anders Fogh Rasmussen said there had been steady progress in the handover of security responsibilities in Afghanistan to local forces, who are now leading 80 % of security operations.