US General John Allen to retire, declining top Nato job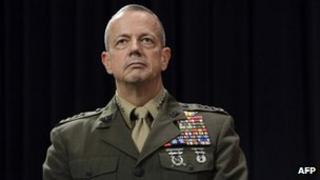 US General John Allen will retire instead of taking over as Nato's supreme commander in Europe, citing concerns about his wife's health.
President Barack Obama said he had accepted Gen Allen's request to retire, praising his "decades of service" in the US Marine Corps.
Gen Allen is the outgoing commander of Nato forces in Afghanistan.
Earlier this year, he was cleared of misconduct in a scandal that brought down CIA Director Gen David Petraeus.
Gen Allen told the Washington Post he was retiring in order to help his wife cope with a combination of chronic health issues, including an autoimmune disorder.
'True patriot'
President Obama said he had accepted Gen Allen's request after meeting him earlier on Tuesday.
"I told General Allen that he has my deep, personal appreciation for his extraordinary service over the last 19 months in Afghanistan," the president said in a statement released by the White House.
He described the four-star general as "one of America's finest military leaders, a true patriot".
Gen Allen's nomination to head Nato in Europe had earlier been put on hold amid reports he had exchanged inappropriate emails with a Florida socialite, in the scandal that forced Gen Petraeus to resign in November.
But allegations of professional misconduct were dismissed and Defence Secretary Leon Panetta said he had "complete confidence" in Gen Allen's leadership.
The general told the Washington Post the investigation "took a toll" on his wife, Kathy. He said her health had deteriorated so much in recent years that she might not be authorised to travel on military aircraft to Belgium, where he would be based.
"For a long time, I told her: 'When you can't bear this anymore, just tell me and I'll drop my [resignation] letter right away,'" he told the Washington Post. "Now I need to be the one who takes this out of her hands."
During his tour of duty in Afghanistan, Gen Allen, 59, managed the transfer of security duties across much of the country to the Afghan army and police.
His successor is expected to be the last commander of the International Security Assistance Force in Afghanistan and will oversee the withdrawal of most foreign troops from the country.