Five life terms for multiple killer Christopher Speight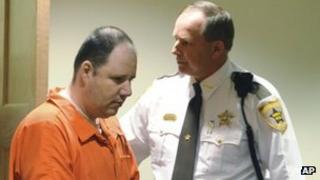 A Virginia man who said an Egyptian goddess ordered him to shoot eight people dead in 2010 has been sentenced to five life prison terms.
Christopher Speight, 42, pleaded guilty to murder charges, attempted murder of a policeman, and five weapons charges.
Speight killed his sister and her family, three neighbours, and a teenage boy at his home.
He was ruled insane at the time of the attack, making a death sentence unlikely, a prosecutor said.
He told police an Egyptian goddess named Jennifer told him to shoot his family because they were possessed by demons.
'Monster'
Speight, who lived in a rural home in Appomattox with his sister, her husband and their two children ages 15 and four, killed the entire family inside the house.
He ambushed the other victims from a hidden position in a tree when they arrived at the house.
Speight told investigators Jennifer ordered him to shoot the second group to prevent them helping the first victims, whose bodies needed to rot, according to a statement of facts read at the sentencing hearing.
Families of the victims were present in court and four relatives gave testimony on how the murders had affected their lives.
"Christopher Speight, you look at me," said Kim Scruggs, whose 16-year-old son was among the victims.
"You were a coward up there that day when you shot my son in the back, running for his life."
Meghan Durrette, who lost her mother, stepfather and 15-year-old sister in the attack, said: "How could someone commit such a heinous crime? I've asked myself that question for three years, and all I could come up with is monster.
"You are a monster. I hope you rot in hell."
Explosives at home
Other relatives accused Speight of tricking the authorities into believing he was insane.
In January 2010, Speight turned himself in after an all-night stand-off with police, who had surrounded the woods just outside Appomattox.
Police earlier found a "multitude" of explosives at the home where most of the victims were shot.
The victims were identified as Lauralee and Dwayne Sipe, both 38, their four-year-old son Joshua, and Lauralee's 15-year-old daughter Morgan Dobyns.
Karen and Jonathan Quarles, both 43, their daughter Emily, 15, Emily's boyfriend Bo Scruggs, were also killed.