Chicago names Joaquin Guzman public enemy No. 1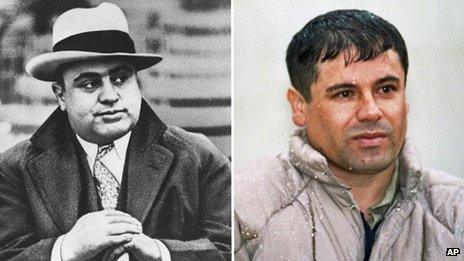 The city of Chicago has named its first public enemy number one since Al Capone - a drug cartel leader who lives in a mountain hideaway in western Mexico.
Joaquin Guzman is the leader of the powerful Sinaloa cartel, which is suspected by federal agents supplying the bulk of narcotics sold in Chicago.
The Chicago Crime Commission has named other public enemies, but the 1930s gangster was the only prior number one.
The US has offered a $5m (£3.2m) reward for Guzman's capture.
He has been indicted on federal trafficking charges and US officials want him extradited if he is ever captured.
"Not since the Chicago Crime Commission's first public enemy number one has any criminal deserved this title more than Joaquin Guzman,'' JR Davis, president of the non-governmental Chicago Crime Commission, said on Thursday.
Federal officials agree that Guzman should be considered a Chicago crime boss, despite his removed location.
"Guzman is the new Al Capone of Chicago,'' Jack Riley, the top Chicago official from the US Drug Enforcement Administration (DEA), said at the news conference.
Capone based his bootlegging and other criminal enterprises in Chicago when it was illegal to make or sell alcohol in the US. He gained notoriety for the so-called St Valentine's Day Massacre, which left seven rivals dead.
But Jack Riley says that Guzman, whose nickname El Chapo means "shorty" in Spanish, is more ruthless than the legendary gangster.
"If I was to put those two guys in a ring, El Chapo would eat [Capone] alive,'' he told the Associated Press, while pointing to pictures in his office of the criminal kingpins.
Mr Riley says Chicago is both a destination for drugs from Guzman's cartel and a distribution hub for the rest of the US.
While cartels are rarely directly linked to crime in the city, the DEA agent said drug trafficking is an underlying cause of territorial battles between street gangs that are blamed for rising homicide rates.
Forbes magazine has estimated Guzman's fortune at about $1bn.
Related Internet Links
The BBC is not responsible for the content of external sites.