Christopher Dorner was 'on mission' before gun battle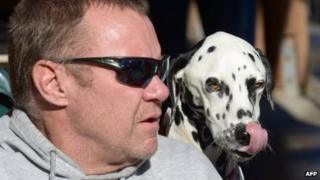 A man carjacked at gunpoint by a murderous former Los Angeles policeman has described coming face to face with America's most wanted man.
Rick Heltebrake said Christopher Dorner was "almost professional" as he ordered him out of his pick-up truck.
Afterwards, Dorner was in a shoot-out with police that ended with the fugitive assumed dead in a cabin fire, 80 miles (128km) east of Los Angeles.
Police have denied razing the cabin on purpose during the siege.
A local CBS broadcaster and CNN aired an audio recording of apparent police radio communications during the shoot-out. Voices purported to be police were heard saying: "Burn it down".
Pyrotechnic canisters
"We did not intentionally burn down that cabin to get Mr Dorner out,'' San Bernardino County Sheriff John McMahon said on Wednesday.
He told reporters that officials used the term "burners" to described pyrotechnic tear canisters, which generate "a lot of heat".
"We had introduced those canisters into the residence and a fire erupted," he said.
Police have not formally identified charred remains found in the cabin as Dorner, but have ended their manhunt, standing down the LAPD from high alert.
Mr Heltebrake was sitting in his pick-up truck on Tuesday when he said Dorner emerged from a grove of trees and pointed a large assault-style rifle at him.
"I don't want to hurt you," Mr Heltebrake recalled Dorner saying. "Start walking and take your dog."
The former cop, wanted for three murders in southern California, was in camouflage from head to toe and wearing a bulletproof vest packed with ammunition, he said.
But Mr Heltebrake did not feel as though Dorner wanted to hurt him.
"He wasn't wild-eyed, just almost professional,'' he said. "He was on a mission. There were other people down the road that were part of his agenda."
Couple 'tied up'
Mr Heltebrake called police when he heard gunfire soon after, then hid behind a tree.
The pick-up truck was the second car Dorner reportedly stole on Tuesday, after ditching another vehicle he seized outside a cabin where he had been hiding, just a half-mile from the police command centre.
A couple told a news conference on Wednesday that they happened upon Dorner when they entered the cabin on Tuesday. They said Dorner had a gun but assured them they would not be harmed.
The couple said he tied their arms and put pillowcases over their heads before fleeing in their Nissan.
Mrs Reynolds said she had managed to get her mobile phone and call police.
Authorities could not immediately verify the story, and other reports said the fugitive was found by two women cleaning the house.
Authorities were originally looking for the stolen Nissan when Dorner is said to have driven at them, gun blazing, in Mr Heltebrake's pick-up truck.
The fugitive then fled to another cabin where the shoot-out with San Bernardino police began.
During the gun battle, sheriff's deputy Jeremiah MacKay was killed, and another deputy, Alexander Collins, was wounded.
MacKay, a detective who had been with the department for 15 years, had a wife, a seven-year-old daughter and a four-month-old son, officials said.
The authorities said Dorner earlier killed the daughter of a police captain who had represented him at a disciplinary hearing, and her fiance. He was also accused of killing another policeman and injuring two others.
Irvine
Sunday 3 Feb: Monica Quan (pictured), 28, and Keith Lawrence, 27, were found shot dead in Irvine. Ms Quan, was the daughter of a former Los Angeles police captain who had represented Mr Dorner in disciplinary hearings that resulted in his dismissal in 2008.
San Diego
Wednesday 6 Feb: At around 22:30, a man matching the description of Mr Dorner (pictured) tried to steal a 47-foot boat from a San Diego marina, but the engine wouldn't start. An 81-year-old man on the boat was tied up but unhurt.
Corona
Thursday 7 Feb: At 01:30, two LAPD officers assigned to protect a person named in Mr Dorner's "manifesto" chased a vehicle they believed was Mr Dorner's in Corona. One officer was injured during a shootout, and the gunman fled.
Riverside
Thursday 7 Feb: Shortly after the shootout in Corona, a gunman believed to be Mr Dorner ambushed two Riverside police officers who had stopped at a red light. One officer was killed and the other critically injured.
Torrance
Thursday 7 Feb: At 05:15, LAPD officers guarding a target in Torrance identified in Mr Dorner's "manifesto" opened fire on a truck they mistakenly believed to be Mr Dorner's. Two women were wounded. Shortly afterwards, Torrance police shot at a second truck they mistook for Mr Dorner's. Nobody was hurt.
Shooting at Big Bear Lake
Wednesday 13 Feb: The charred remains of a body, believed to be that of Christopher Dorner, are found in a burnt-out cabin at Big Bear Lake ski resort, after a shoot-out. One officer was killed and another injured. The search moved to the area after a truck belonging to the suspect was found there.