Senate panel approves Chuck Hagel defence nomination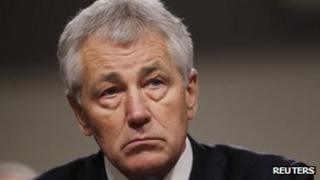 A US Senate committee has approved the nomination of ex-Republican Senator Chuck Hagel to be President Barack Obama's secretary of defence.
The full Senate is expected to take up the nomination this week, though Republican critics have threatened to block a vote.
Mr Hagel's critics say they are worried by his past remarks and voting record on Israel, Iran and other issues.
If confirmed, Mr Hagel will replace Leon Panetta at the Pentagon.
The 66-year-old former Nebraska senator would be the first Vietnam veteran to run the defence department.
'Impugned his patriotism'
On Tuesday afternoon, the Senate armed services committee voted 14-11 along party lines in favour of Mr Hagel, with one senator voting "no instruction".
All the Democrats on the panel voted in favour of the appointment.
Senate Majority Leader Harry Reid has said he will bring the matter to a vote in the full Senate.
Correspondents say it is likely Mr Hagel will be approved by the Senate, despite objections from at least a dozen Republicans and threats to block or delay a vote. The vote is expected on Thursday.
In Tuesday's committee hearing, conservative Texas Republican Senator Ted Cruz said the committee had too little information about Mr Hagel's personal finances to judge whether he had ever received compensation from "extreme and radical groups".
That and other remarks from Republicans prompted Mr Hagel's backers to leapt angrily to his defence.
"You basically have impugned the patriotism of the nominee," Senator Bill Nelson of Florida told Mr Cruz.
Mr Hagel's backers have also warned of great risks in leaving the Pentagon without a leader at a time of budget challenges and while the US has troops in Afghanistan.
Iraq War sceptic
Mr Hagel, a decorated and twice-wounded veteran of the Vietnam War, served in the Senate for 12 years.
But correspondents say he is seen by some of his former colleagues as a renegade for breaking with Republican ranks on issues such as the Iraq War.
He has also been criticised during the confirmation process for comments he made years ago claiming "the Jewish lobby" had too much influence over American policy.
His remarks in 1998 that a nominee for an ambassadorial post was "openly, aggressively gay" have also raised eyebrows. Mr Hagel has since apologised for that comment.