Obama announces 34,000 troops to leave Afghanistan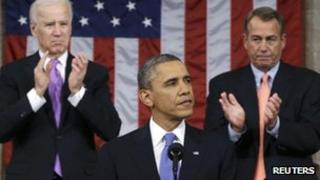 President Barack Obama has announced in his State of the Union speech that 34,000 US troops will leave Afghanistan by early 2014.
The move would effectively halve the current US troop levels in the country from about 66,000.
The war in Afghanistan "will be over" by the end of 2014, Mr Obama said, but added the US would continue to help in training and counter-terrorism.
Mr Obama did not specify what post-2014 troop levels would be in his speech.
The US president and his Afghan counterpart, Hamid Karzai, agreed in January to speed up the hand-over of combat operations to Afghan forces.
"We welcome this," Afghan defence ministry spokesman Gen Mohammad Zahir Azimi told the AFP news agency after the speech.
"We will take all security responsibilities by the end of 2013," he said.
The White House had previously signalled it favoured keeping up to 9,000 troops in Afghanistan after the combat mission ends.
"Beyond 2014, America's commitment to a unified and sovereign Afghanistan will endure, but the nature of our commitment will change," Mr Obama said.
"We're negotiating an agreement with the Afghan government that focuses on two missions - training and equipping Afghan forces so that the country does not again slip into chaos, and counter-terrorism efforts that allow us to pursue the remnants of al-Qaeda and their affiliates," he added.
US troop levels in Afghanistan peaked at about 100,000 in 2010.