Same-sex US military couples to get family benefits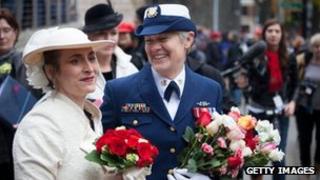 The Pentagon will extend some family benefits to same-sex partners of US military members, Defence Secretary Leon Panetta has said.
The benefits include child care, legal help, joint duty assignments, emergency leave, and transportation.
Others such as healthcare and housing allowances cannot be offered without a change in federal law, he said.
The move comes more than two years after the US Congress repealed a ban on openly gay military members.
Mr Panetta said he had ordered each military service to make the changes by 1 October.
"It is a matter of fundamental equity that we provide similar benefits to all of those men and women in uniform who serve their country," Mr Panetta said on Monday.
"Taking care of our service members and honouring the sacrifices of all military families are two core values of this nation."
Mr Panetta said that while the remaining benefits are blocked by a federal law that does not recognise same-sex marriage, he foresaw a time "when the law will allow the department to grant full benefits to service members and their dependents, irrespective of sexual orientation".
To qualify, the service member and his or her partner must sign a "declaration of domestic partnership" attesting to the exclusive and committed relationship.