US north-east braces for 'historic' snowstorm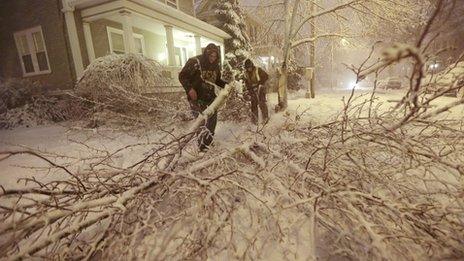 Heavy snow is falling in the US north-east, where a "potentially historic" winter storm could bring up to 3ft (91cm) of snow in some areas.
Flights to and from New York have been cancelled and power cuts are reported as blizzards from the Great Lakes descend on parts of New England.
People have been warned to stay off the roads, and stock up on food and other supplies.
Winds of up to 75mph (120km/h) were expected to create deep drifts.
The National Weather Service said the combination of two weather systems from the polar and sub-tropical jet streams would produce a "potentially historic" storm.
Blizzard warnings are in effect for parts of New Jersey, New York, Massachusetts, Rhode Island and Connecticut, and extend into New Hampshire and Maine.
The heaviest snowfall was expected overnight on Friday and in the early hours of Saturday.
By Friday afternoon governors in the states of New York, Massachusetts, New Hampshire, Rhode Island, Connecticut and Maine had declared states of emergency and driving bans.
On Friday evening, snow accumulations of about 2.5in (6.35cm) were reported in Boston, with about 2in in New York City.
More than 6in was on the ground in parts of south-eastern Massachusetts, where about 40,000 customers were reported to have lost power.
In Rhode Island, utility companies said 45,000 people were without power with more than 8in of snow on the ground.
In Canada, meanwhile, up to 25cm of snow as well as strong wind gusts are expected in the southern part of Ontario province, with flurries also forecast in Quebec.
Ontario has already seen 200 vehicle accidents, the CBC reported. At least three people have been killed.
Snow was also blamed for a 19-car pile-up in Maine on Friday.
Amtrak suspended its train service from New York to Boston on Friday afternoon.
In Boston, where schools were preemptively closed on Friday, Mayor Thomas Menino urged businesses to consider allowing staff to stay home to reduce the risk of commuters getting stranded.
"We are hardy New Englanders, let me tell you, and used to these types of storms," said Mr Menino.
"But I also want to remind everyone to use common sense and stay off the streets of our city. Basically, stay home."
Massachusetts Governor Deval Patrick ordered all non-essential state employees to stay indoors, and suggested that private businesses do the same.
Boston is forecast to get 3ft of snow, which would far exceed the city's record snowfall of 27.6in (70cm) in 2003.
Fuel shortages are being reported from Connecticut to New York City as motorists queue at petrol stations to fill up their vehicles, as well as generators and snow blowers.
In New York City, which is expecting up to 12in, Mayor Michael Bloomberg said snow ploughs and 250,000 tonnes of salt were being put on standby.
"We hope forecasts are exaggerating the amount of snow, but you never can tell," Mr Bloomberg said.
Some neighbourhoods in the city are still recovering from Sandy, an October storm that brought record flooding.
Many of those areas face a renewed risk of storm surge and flooding from the winter storm.
Officials in Brick Township, New Jersey, issued a voluntary evacuation order for areas still recovering from Sandy.
One power utility firm in New York's Long Island criticised for its response to Sandy said it was preparing its grid for the storm and getting crews and equipment ready to respond to outages.
While schools and transportation in the city remain open for now, Mr Bloomberg advised New Yorkers to stock up on supplies, including medicine.
Meanwhile, meteorologists stressed the forecasts were not exaggerating the severity of the storm.
"This one doesn't come along every day. This is going to be a dangerous winter storm," said Alan Dunham, meteorologist for the National Weather Service.
"Wherever you need to get to, get there by Friday afternoon and don't plan on leaving."
Related Internet Links
The BBC is not responsible for the content of external sites.