Obama offers spending-cuts deal to delay budget crunch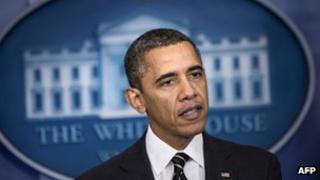 US President Barack Obama has urged Congress to pass a short-term package of spending cuts and tax reforms to delay larger cuts next month.
Mr Obama said the larger cuts, scheduled to come into effect on 1 March, would be economically damaging.
The Democratic president gave no specifics, but said he was hoping to strike a grand bargain with Republicans.
But Republicans swiftly rebuffed any tax reform that would increase revenue.
The automatic spending cuts, known as the sequester, would suck away $85bn (£54bn) in one year, split between defence and domestic programmes, with a total of $1.2tn reductions until 2022.
Lower deficit predicted
They were originally set to take place on 1 January, before Congress passed a last-minute deal to prevent tax rises on most Americans and delay the cuts for two months.
In a news conference on Tuesday, Mr Obama said he still believed a broader, long-term deal to reduce the deficit by $4tn was possible, but that time was running short before the 1 March deadline.
"We should give them the chance to come up with this budget, instead of making indiscriminate cuts now that will cost us jobs," Mr Obama said.
He added: "We can't cut our way to prosperity."
Recent official figures revealed the US economy shrank by 0.1% in the fourth quarter of 2012, driven in part by previous defence cuts.
Some Republicans have suggested they would let the sequester come to pass instead of agreeing to any tax reforms that increase revenue.
On Tuesday, Senate Republican leader Mitch McConnell rejected the president's plan.
"The American people will not support more tax hikes in place of the meaningful spending reductions both parties already agreed to and the president signed into law," he said in a statement.
"The president needs to lay out significant spending reforms - the other side of the 'balance' as he defines it," he added.
Senate Majority Leader Harry Reid has suggested such measures as ending tax breaks for corporate jets and subsidies for the oil and gas industry.
The oil and gas subsidies would total about $4bn a year, while the corporate jet breaks would total $300m.
On Tuesday, the Congressional Budget Office reported that the US budget deficit would drop to $845bn this year, the first time it would fall below $1tn during Mr Obama's presidency.
But the office warned that while deficits would continue to drop until 2015, they would return to almost $1tn by 2022.
The non-partisan agency also said the economy would grow - but slowly - hindered by the tax rise on incomes over $400,000 passed in January and the scheduled cuts.