Canada stops distribution of penny coin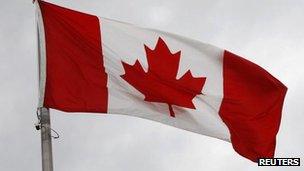 The Canadian penny is being withdrawn from circulation because production costs have exceeded its monetary value.
The Royal Canadian Mint will no longer distribute the coin to financial institutions around the country, but it will remain legal tender.
The government has advised shop owners to round out prices to the nearest nickel (5p) for cash transactions.
Other countries that no longer use the penny include New Zealand, Australia, the Netherlands, Finland and Sweden.
Despite the change on Monday, electronic transactions can still be billed to the nearest cent.
The government has estimated that the coins, which bear the image of Queen Elizabeth II and two maple leaves, cost about C$11m (£7m) each year to make.
The end of the penny has prompted charities around Canada to start penny drives, and some initiatives have been very successful.
Toronto-based Free The Children has already collected 70m pennies, CBC News reports.
That could provide a lifetime of clean drinking water to 28,000 people in developing countries, according to the NGO.
But other organisations, such as Canadian Guide Dogs for the Blind, say they are worried the disappearance of the penny will make it harder to fundraise.
The US Treasury has said the Obama administration has thought about making its one cent coins from a cheaper material - they are currently made of zinc.
Related Internet Links
The BBC is not responsible for the content of external sites.