DC police 'lax' on sexual crime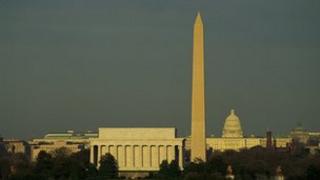 Washington DC's police department has systematically under-reported and discounted sexual assault complaints, according to a new report by Human Rights Watch.
The research illustrates the problems sexual assault victims can encounter even after being attacked.
"I think I would have healed from this a lot faster if I hadn't reported it to the police," said one victim interviewed by the HRW. She appeared on a video the group made to publicise the experiences of individual women.
But the city's Metropolitan Police Department (MPD) said the study was based on "flawed methodology".
The 197-page report found that between October 2008 and September 2011 more than 10% of sexual assault cases were closed without investigation at the time of first being reported. More than twice that amount were not given a case number needed for an investigation to ensue.
They allege that one-third of sexual assault complaints made at one local hospital were not documented by the police, despite policy stating otherwise.
The group interviewed health workers, sexual assault victims and advocacy groups. They also acquired police records in order to compile their findings.
The report alleges that serious sexual assaults were mislabelled as misdemeanours or non-sexual abuse cases, and that the unusually high clearance rates of sexual assault cases implies that police are over-using administrative polices that allow cases to be cleared without a proper investigation.
"All cases of sexual assault need to be investigated," said Sara Darehshori, senior counsel in the US programme at Human Rights Watch and author of the report.
"They don't all have to be prosecuted, but they need to be investigated."
In a statement, Cathy Lanier, MPD police chief, said the claim of unreported cases would "ultimately have a chilling effect on victims of sexual abuse and will discourage them from reporting crimes".
"MDP has conducted significant outreach to improve reporting over the past few years and we fear that this report based largely on a few case examples from years ago will undo the progress we have made," she said.
But Roger Caniff, a former sex crimes prosecutor and president of End Violence Against Women International, says indifferent police work like that alleged in the report has its own chilling effect.
Bad responses from law enforcement "poison the case", he said. "The most compelling and evidence-rich accounts come from victims that are treated compassionately."
Furthermore, he noted that failure to properly investigate sexual assaults leads to more assailants on the street.
Darehshori admitted that the MPD had good policies on the books designed to support victims of sexual assault.
"But these problems aren't with police policy, they're with police practices," she said, noting that faulty assumptions about sexual trauma and biases on the part of the police can lead to poor outcomes.
Washington is not the only city that has had problems with sexual assault cases.
"This is not a unique issue to Washington," says Darehshori, who reports getting calls from across the country from victims alleging poor treatment by police.
This month, for instance, the King's County Sherriff's Department in Seattle was sued by its detectives working in the sex crime unit.
Three female officers allege that their male co-workers subjected them to sexual harassment and spoke crudely about the accusers who sought their help.
Darehshori says cities like Philadelphia have improved their police departments thanks to independent oversight from advocacy groups, a tactic she hopes to see adopted in Washington.
"No victim should feel worse for having reported to the police," she said.