John Kerry eyes revival of Middle East peace talks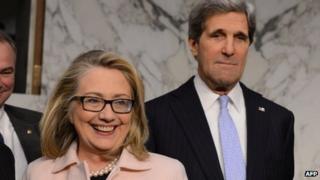 US Senator John Kerry has warned that a failure of a two-state solution in the Middle East would be "disastrous", at his confirmation hearing as secretary of state.
But Sen Kerry said he believes there is a "way forward" on peace talks between Israel and the Palestinians.
US-brokered peace talks in the Middle East broke down in 2010.
Sen Kerry sailed through his hearing to replace Hillary Clinton at the helm of the state department.
The Senate Foreign Relations Committee is expected to approve Sen Kerry's nomination, with a full Senate vote possible on Tuesday.
A Vietnam veteran and a senator since 1984, he was the Democratic presidential nominee in 2004, losing the election to George W Bush.
'Disastrous'
Mr Kerry is chairman of the committee which conducted Thursday's hearing. It was led instead by Senator Robert Menendez of New Jersey.
Sen Kerry warned "the window or door on a two-state solution could shut - and that would be disastrous for all concerned".
"Perhaps this can be a moment where we can renew some kind of effort to get the parties into a discussion to have a different track than we have been on over the last couple of years," he said, adding that it was unclear what government would emerge from Israel's recent election.
The Massachusetts senator did not give details of possible plan, saying he did not want to prejudice any new effort.
During the five-hour hearing, Sen Kerry also said "we will do what we must to prevent Iran from obtaining a nuclear weapon".
"I repeat here today: our policy is not containment. It is prevention and the clock is ticking on our efforts to secure responsible compliance," he told the panel.
He said he hoped the US and its allies would maintain diplomatic pressure against Iran, but said Iran had to prove its nuclear programme was solely for peaceful purposes.
Sen Kerry also spoke about American efforts to strengthen its relationship with China, saying it would be "a tough slog". And he described himself as a "passionate advocate" on battling global warming.
'The right choice'
He was introduced by Mrs Clinton, Republican Senator John McCain and Massachusetts Senator Elizabeth Warren.
"John is the right choice," Mrs Clinton said of her designated successor. "He will bring a record of leadership and service that is exemplary."
Her recommendation was immediately echoed by Sen McCain.
"Witnessing almost daily his exemplary statesmanship is one of the highest privileges I've had here," he said.
Sen Kerry's nomination as secretary of state opens his Massachusetts Senate seat.
The place will temporarily be filled by appointment by Democratic Massachusetts Governor Deval Patrick. A special election will follow within months.
Sen Kerry was Mr Obama's second choice, after UN Ambassador Susan Rice became embroiled in controversy over last September's raid on a US consulate in Benghazi, Libya.
Republican senators accused her of deliberately misleading the American people over the nature of the attack, which left four Americans dead.
The Obama administration angrily rejected the claims, but Ms Rice withdrew her name from consideration for secretary of state.