Leon Panetta given plastic meat cleaver as parting gift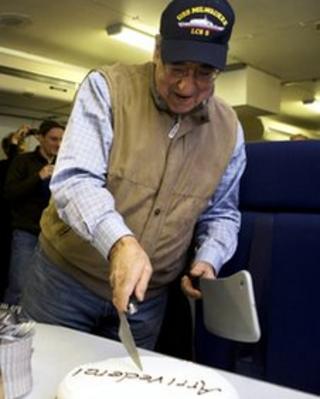 Leon Panetta has completed his final overseas trip as US defence secretary, being presented by his staff with a plastic meat cleaver as a parting gift.
The cleaver was a reference to Mr Panetta's term for spending cuts threatening the US defence budget.
In a farewell ceremony on board his military plane, the Italian-American Pentagon chief was also given a cake topped with the word "Arrivederci!".
Mr Panetta, 74, was the head of the CIA when the US killed Osama Bin Laden.
A Democratic lawyer from California, he served as chief of staff to President Bill Clinton between 1994 and 1997.
He took over at the CIA in February 2009 before being appointed defence secretary by President Barack Obama in 2011.
During his tenure, he has struggled against automatic spending cuts to the defence budget totalling billions of dollars, a process he frequently likened to a meat cleaver.
During Saturday's low-key ceremony, he thanked his staff for working to protect America, saying he believed they made the world safer, the Associated Press reported.
Mr Panetta was returning to Washington after a week-long European tour that took in Portugal, Spain, Italy and the UK.