Debt ceiling debate: Republicans to hold vote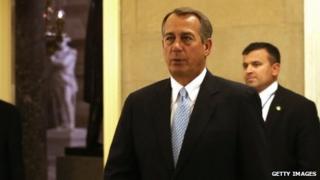 US House Republicans have pledged to vote next week to raise the country's debt limit, a move that could end a perilous showdown with the White House.
The bill, which would grant a three-month debt limit extension, also includes a measure to push Congress to pass a federal budget by 15 April.
The Republican proposal makes lawmakers' pay contingent on doing so.
The US is expected to hit its $16.4tn (£10.2tn) statutory borrowing limit in mid February unless lawmakers act.
The Republican move is designed to force the Democratic-controlled Senate to put forward a long-term budget plan.
In the ongoing debate over how to rein in the $1.1tn US federal budget deficit, Republicans demand dramatic cuts in federal spending, while Democrats led by President Barack Obama seek what they call a balanced approach that includes new tax revenue.
Republicans had previously threatened not to pass an increase in the debt limit unless it was paired with spending cuts.
Democratic President Barack Obama, meanwhile, demanded they pass an unconditional debt limit increase and warned them they would not "collect a ransom in exchange for not crashing the economy".
"We are going to pursue strategies that will obligate the Senate to finally join the House in confronting the government's spending problem," House Speaker John Boehner told lawmakers at a Republican retreat in Virginia on Friday.
"The principle is simple: `no budget, no pay."'
White House 'encouraged'
On Friday, the White House appeared cautiously to welcome the move but withheld comment on the "no pay" condition.
"We are encouraged that there are signs that Congressional Republicans may back off their insistence on holding our economy hostage to extract drastic cuts in Medicare, education, and programmes middle class families depend on," spokesman Jay Carney said.
Congress has not passed a budget since 2009. The US has instead maintained the government's spending through a series of stop-gap bills, the latest of which is set to expire on 27 March.
A spokesman for Senate Majority Leader Harry Reid said Senate Democrats had yet to decide how they would respond to the measure, but said it was "reassuring to see Republicans beginning to back off their threat to hold our economy hostage".
The current fight over the debt limit comes less than three weeks after Congress and the White House struck a last-minute deal to prevent the so-called fiscal cliff of sharp spending cuts and tax increases.
The last debt ceiling battle between Congress and Mr Obama ended in July 2011, after bringing the nation close to default on its debt and resulting in a credit rating downgrade as well as financial market turmoil.