TSA to phase out Rapiscan 'naked scanners'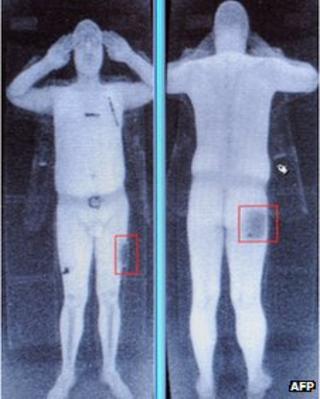 The US aviation security agency will stop screening travellers with scanners that show travellers' naked images, amid widespread privacy complaints.
Scanner maker Rapiscan had been ordered to make its software function without screeners having to view naked images.
But Rapiscan was to be unable to meet a June deadline to make the updates, the US Transportation Security Administration (TSA) said.
The kit is to be replaced with scanners that show hidden objects on an avatar.
"TSA has strict requirements that all vendors must meet for security effectiveness and efficiency," the agency said in a statement.
Separately to the privacy concerns, some health officials feared the Rapiscan 1000SP scanner, which uses low-level X-rays to generate the image viewed by screeners, might expose passengers to unsafe levels of radiation.
Under the arrangement with the TSA, Rapiscan will remove all 174 scanners from US airports at its own expense, the Los Angeles Times reported, representing about half of the scanners in use.
Rapiscan parent company OSI Systems said ending the TSA contract would cost it about $2.7 million (£1.7 million).
"We are pleased to reach a mutually satisfactory agreement with the TSA," OSI Systems President and Chief Executive Officer Deepak Chopra said in a statement.
"We have had a close working relationship with TSA and its predecessor agencies for the better part of two decades, during which time we have together pioneered many of the transportation security technologies in use today."
The Rapiscan machines will be replaced by scanners made by L-3 Communications Holdings that use radio waves to detect suspicious objects hidden underneath clothes. Those display warnings on an avatar rather than show a naked image of the passenger.
The L-3 machines are already in use in some US airports.