Cyanide-poisoned Chicago lottery winner's body exhumed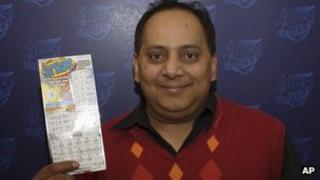 Authorities in Chicago have exhumed the body of a man who died of cyanide poisoning after winning the lottery.
Investigators later performed a second autopsy on Urooj Khan as part of an inquiry into his death at 46.
Khan died in July before he could collect the $425,000 (£267,000) payout.
His death was initially attributed to natural causes. But after a concerned relative contacted authorities, tests showed he had been poisoned and police launched a homicide investigation.
On Friday morning helicopters hovered over a cemetery as the exhumation got under way.
Several trucks, police cars and a backhoe digger were seen at the grave site, the Chicago Tribune reported.
'Rule out' natural causes
The Cook County medical examiner's office said the autopsy was performed immediately, as Khan is due to be buried again on Monday.
Chief Medical Examiner Stephen Cina said the body was in a state of "advanced decomposition".
But he said examiners were able to identify and take samples of each organ for testing, as well as hair and fingernail samples and dirt samples from around the wooden coffin.
Testing will take several weeks, Mr Cina said.
Authorities hope the results will help determine whether the poison was swallowed, inhaled or injected.
The medical examiner's office first ruled Khan's death had been caused by a hardening of his arteries, but the case was reopened after a concerned relative suggested he may have been poisoned, prosecutors said.
Further tests revealed lethal levels of cyanide in Khan's blood.
'Winning means everything'
Khan, who owned several dry cleaning stores, was named the lottery winner and presented with a giant cheque days after purchasing the winning ticket.
"Winning the lottery means everything to me," he said on 26 June. Khan said that he would put some of his winnings into his business and donate money to a children's hospital.
He opted to take his winnings in a lump sum of just over $600,000, which amounted to about $425,000 after taxes.
If a lottery winner dies, the money typically goes to his or her estate, a spokesman for the Illinois lottery said.
No motive has been established, but police say they have not ruled out the possibility that Khan was killed because of the lottery win.
Khan is survived by his wife, Shabana Ansari, and a 17-year-old daughter from a previous marriage, Jasmeen.
Mrs Ansari and Khan's father-in-law, Fareedun Ansari, have denied involvement in Khan's death.