'Dear Abby' author Pauline Friedman Phillips dies at 94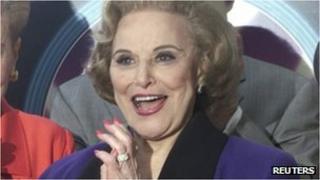 The author of widely syndicated advice column Dear Abby has died at 94 after a long battle with Alzheimer's disease, her publicist has said.
Pauline Friedman Phillips, known for her glib responses to readers, wrote under the name Abigail Van Buren.
Phillips launched the column in 1956 and she passed it to her daughter Jeanne Phillips in 2002.
The world's most widely distributed column, it has run in 1,400 newspapers with a daily readership of 100 million.
In 1956, Phillips was new to the San Francisco area when she called the editor of the San Francisco Chronicle to tell him she could write a better advice column than the one she had just read, her syndicate Universal Uclick said.
To her surprise, the editor invited the 37-year-old housewife in for a meeting, and after reading samples of her writing later, gave her a job.
Phillips was known to have a punchy style in her answers to readers' questions.
Responding to a reader who wanted to trace the reader's family history without spending much money, Phillips wrote: "Run for public office."
When another reader asked if the contraceptive pill was "deductible", she replied: "Only if they don't work".
In interviews, Phillips said her advice evolved over the decades. For example, she came to realise that sometimes divorce was the right course of action for unhappily married couples.
For decades, Phillips' column competed with the Ann Landers advice column written by her twin sister Esther Friedman Lederer. Lederer died in 2002.
The sisters, who grew up in Sioux City, Iowa are said to have had a strained relationship as young adults but later regained the closeness they had as children.