Notre Dame linebacker Manti Te'o in bizarre hoax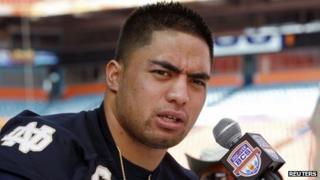 A US college football star is in the spotlight for the wrong reasons after his story of a girlfriend who died of cancer turned out to be a bizarre hoax.
Notre Dame linebacker Manti Te'o, 21, said her death had inspired him to lead his Indiana team on its march to the national championship game.
But he stunned the sporting world on Wednesday night by admitting that his partner, Lennay Kekua, never existed.
Notre Dame said the player had been duped by an online and phone romance.
The hoax was revealed hours after a sports website, Deadspin.com, posted an investigative report stating that it could find no record Kekua had ever existed, while noting numerous inconsistencies in the story.
'Sick joke'
She was said to have been a 22-year-old Stanford University graduate who had been in a serious car accident in California, before being diagnosed with leukaemia.
Kekua was said to have died within hours of Te'o's real-life grandmother, who passed away on 11 September after a long illness.
But Deadspin said that it could find no official record of Kekua's death and that no-one of that name had attended Stanford University.
In a statement, Te'o said he had been the victim of a "sick joke", but he did not say whether he had ever met Kekua in person, nor did he correct media reports that he had met her.
"This is incredibly embarrassing to talk about, but over an extended period of time, I developed an emotional relationship with a woman I met online," said the statement.
"We maintained what I thought to be an authentic relationship by communicating frequently online and on the phone, and I grew to care deeply about her."
He added: "To realise that I was the victim of what was apparently someone's sick joke and constant lies was, and is, painful and humiliating. In retrospect, I obviously should have been much more cautious."
Unnerving phone call
Notre Dame apparently knew about the hoax as far back as 26 December, but kept the information private ahead of this month's national championship game.
In a press conference on Wednesday, Notre Dame Athletic Director Jack Swarbrick said Te'o had told his coaches in December that he had received a call from Kekua's phone number earlier that month.
"When he answered it, it was a person whose voice sounded like the same person he had talked to, who told him that she was, in fact, not dead," Mr Swarbrick said.
"Manti was very unnerved by that, as you might imagine."
Notre Dame then hired investigators, who reported that multiple individuals had discussed the deception online.
For Te'o, Mr Swarbrick said: "The grief was real. The affection was real."
He added Notre Dame had not released its investigation report before Deadspin's story because the school had "no idea of motive".
Notre Dame lost the championship game to the University of Alabama on 7 January, and Te'o is now hoping to go professional in the National Football League.