US military suicide in 2012 at record high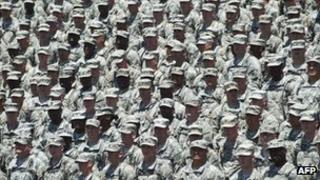 The number of US military members who committed suicide rose to a record 349 in 2012, far exceeding US combat deaths in Afghanistan, the Pentagon has said.
Suicides by active-duty troops increased from 301 in 2011; the Marine Corps had the largest percentage rise.
The Pentagon has struggled to deal with what Defence Secretary Leon Panetta has described as an epidemic.
Some analysts fear the number could continue to rise despite the reduction in troops in combat in Afghanistan.
In 2012, 295 US troops were killed in combat in Afghanistan, according to an Associated Press count.
Since the Pentagon began closely tracking suicides in 2001, suicides have outnumbered combat deaths twice before, in 2008 and 2009.
Most of the suicide cases were either Iraq and Afghanistan veterans suffering from depression, post-traumatic stress syndrome or substance abuse problems, or soldiers who had not gone to war but faced personal issues, said David Rudd, a military suicide researcher at the University of Utah.
A Pentagon study of 2011 suicides found that those who died tended to be white men under the age of 25, in the junior enlisted ranks, and with less than a college education.
Defence officials say they are committed to pursuing ways of finding help for service members, and the Pentagon acknowledged that suicide prevention was "a leadership responsibility".
"Our most valuable resource within the department is our people," Pentagon spokeswoman Cynthia Smith said on Monday.
"We are committed to taking care of our people, and that includes doing everything possible to prevent suicides in the military."