Natalie Wood may have had bruises before drowning - coroner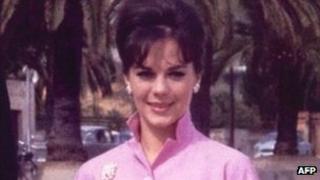 Hollywood actress Natalie Wood may have had bruises on her body before she drowned, a coroner's report has said.
Medical officials say unexplained contusions and scratches on the 43-year-old's face and arms led them to amend her death certificate.
Wood drowned during a boat trip with her husband, TV star Robert Wagner, and actor Christopher Walken in 1981.
It was ruled to be an accident, but the inquiry was reopened in November 2011 because of new evidence.
In a 10-page addendum to Wood's autopsy released on Monday, officials said the actress might have had bruises on her arms, scratches on her neck and grazes on her face before she drowned.
'Unanswered questions'
"The location of the bruises, the multiplicity of the bruises, lack of head trauma, or facial bruising support bruising having occurred prior to entry in the water," Chief Medical Examiner Lakshmanan Sathyavagiswaran wrote in the report, which was completed in June.
But officials were cautious about drawing conclusions because several pieces of evidence were missing during the review.
"Since there are unanswered questions and limited additional evidence available for evaluation, it is opined by this medical examiner that the manner of death should be left as undetermined," the report said.
The unexplained markings were cited in the report as significant factors that prompted officials to change Wood's death certificate last August from drowning to "drowning and other undetermined factors".
Conflicting versions of what happened on the yacht have contributed to the mystery of how the actress died in November 1981.
Argument
Wood had been partying the night before her death, and the coroner's investigation ruled she had been drinking and may have slipped while trying to board the dinghy.
The investigation was reopened after the captain of the boat, Dennis Davern, told US media that he lied to police, and that a fight between Wood and Wagner had led to her death.
In his book Pieces of My Heart, Wagner acknowledged that there had been an argument with Wood before she had disappeared, but authorities have said the actor is not a suspect in his wife's death.
Wood's body was found floating in a Catalina Island cove off the coast of California. Police reports said she was found wearing a long nightgown, socks and a jacket.
As a child, Wood featured in films like Miracle on 34th Street and The Ghost and Mrs Muir.
She was nominated for a best supporting actress Oscar for her role in Rebel Without a Cause, and for best actress for Splendor in the Grass, and Love with the Proper Stranger.
Wood was born as Natalia Nikolaevna Zakharenko, to Russian immigrants in San Francisco.