Aurora massacre: Judge delays James Holmes plea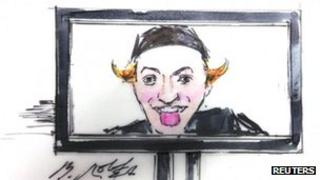 A Colorado judge has delayed the arraignment and plea of the man accused of killing 12 people and wounding 58 others at a Batman film last July.
Over objections of prosecutors and victims' families, the judge on Friday agreed to a defence request to delay James Holmes' plea until 12 March.
Mr Holmes' defence team said it needed more time to prepare a plea.
The move came the morning after the judge ruled prosecutors had enough evidence for the case to go to trial.
'Rot in hell'
The judge's decision on Friday capped a tense and emotional three-day hearing at which prosecutors presented evidence of Mr Holmes' guilt in the massacre.
At the start of the proceedings on Friday in Centennial, Colorado, an unidentified man in the courtroom shouted "Rot in hell, Holmes".
Prosecutors on Thursday showed the court self-portraits that Mr Holmes, 25, took ahead of the massacre.
In one, his orange-dyed hair splays out from under a hat while he sticks his tongue out at the camera. In another, he brandishes a handgun.
Earlier in the week, the court was told that Mr Holmes had laid incendiary booby traps in his apartment before the attack.
The mass shooting, which took place at the premiere of the new Batman film Dark Knight Rises in Aurora, was one of the worst in US history.
Defence lawyers called no witnesses and cross-examined only a few of those summoned by prosecutors.
While they have not indicated how Mr Holmes will plead, his lawyers have raised the issue of his sanity multiple times during the hearing.
Judge William Sylvester also ruled that he will remained jailed until the plea on a total of 166 charges.