Most of US gripped by flu outbreak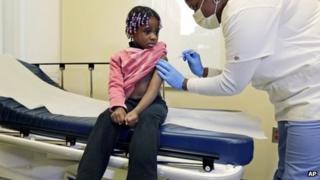 The US is grappling with a major flu outbreak, as 29 states report high levels of influenza-like illness, a US health agency says.
On Wednesday, the mayor of Boston declared a public health emergency in the wake of four flu-related deaths.
Boston has reported about 700 cases of the flu, compared with 70 last season.
Nationally, there have been 2,257 flu hospitalisations and 18 children have died, the Centers for Disease Control and Prevention (CDC) reported.
"Yesterday, I saw a construction worker, a big strong guy in his Carhartts who looked like he could fall off a roof without noticing it," Dr Beth Zeeman, an emergency room doctor in a suburban Boston hospital, told the New York Times.
"He was in a foetal position with fever and chills, like a wet rag. When I see one of those cases, I just tighten up my mask a little."
In its latest flu summary, for the week ending on 29 December 2012, the CDC said that 41 states had reported influenza activity.
The proportion of people visiting doctors with flu-like symptoms went up from 2.8% to 5.6% over the last four weeks.
The strain H3N2 of the flu virus is causing many of the cases, reports suggest, and it is known to cause severe illness, especially among the elderly.
The state of Maine has seen a "significantly higher" incidence of flu cases. In North Carolina, flu activity is at its highest level in a decade with 14 reported deaths.
In the hardest hit areas hospitals are tightening visiting rules. Measures include restricting visitors under the age of 12 and asking visitors to avoid maternity wards.
Meanwhile, Boston is offering free flu vaccinations and is trying to set up more locations where people can get inoculated.
"The best thing you can do to protect yourself and your family is to get the flu shot," Mayor Thomas Menino told reporters.
But experts warn that flu vaccines are not 100% effective, and it is still possible to become ill despite receiving a vaccination.
The mayor also advised sick people not to go to work or school, and Massachusetts Governor Deval Patrick reminded residents that common sense measures like washing hands and sneezing into their sleeve can help.
The head of Boston's public health commission, Barbara Ferrer, said that the 700 flu cases reported could represent just a fraction of the total and that thousands of others could be ill.
Hospitals in the Massachusetts city reported about 1,500 emergency room visits from people with flu-like symptoms, according to the Associated Press news agency.