Obama names Jack Lew to lead US treasury department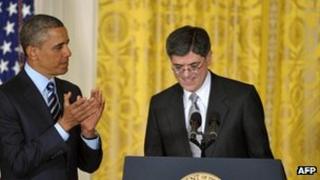 US President Barack Obama has named White House Chief of Staff Jack Lew to lead the US treasury department.
"I trust his judgement, I value his friendship, I know very few people with greater integrity," Mr Obama said.
Mr Lew, 57, will replace Timothy Geithner. Among other roles, he has been Mr Obama's budget director and worked on Wall Street.
He is the fourth senior official to be nominated in recent weeks as Mr Obama fills his second term administration.
If confirmed by the Senate, Mr Lew will take up his post amid tense negotiations between the White House and congressional Republicans.
Debates are brewing over the government's borrowing authority, known as the debt ceiling, as well as government spending cuts, and other fiscal matters.
Mr Lew's nomination comes as part of Mr Obama's second-term cabinet reshuffle.
On Wednesday, Secretary of Labor Hilda Solis announced she would resign.
Attorney General Eric Holder, Health Secretary Kathleen Sebelius and Veterans Affairs Secretary Eric Shinseki will stay on as the second term begins, a White House official has told US media.
On Monday, Mr Obama nominated former Republican Senator Chuck Hagel to replace Leon Panetta as defence secretary and picked White House counter-terrorism adviser John Brennan to be the next director of the CIA.
Last month, he announced Massachusetts Senator John Kerry would be the next candidate for secretary of state, replacing Hillary Clinton.